Authors unveil favourite history books to back Oxfam
Leading authors including AL Kennedy, Ian Rankin and Alexander McCall Smith are supporting the charity's Bookfest.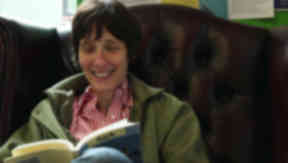 Top authors have clubbed together to back Oxfam.
AL Kennedy, Ian Rankin and Alexander McCall Smith are among those backing the charity's Bookfest by choosing a local history book that has had the most influence on them.
The theme of this year's event is local history.
Kennedy, whose last novel - Day - won the novel category in the 2007 Costa Book of the Year Award, and whose new novel is due to be released next month, picked Sark by Ken Hawkes.
She said: "I'm very fond of the strange and small island of Sark and visit there as often as I can. There's a great little book called Sark by Ken Hawkes which is a good start to unravelling the history and peculiarities of the place."
McCall Smith, creator of the Ladies' No 1 Detective Agency, picked Heartlands - Images of the Scottish Borders by Alistair Moffat. He said: "This a beautiful book, with stunning photographs by Liz Hanson. Alistair Moffat's knowledge and love of the Borders shines through."
Rankin, author of the Rebus novels, focused on the history of his native Cowdenbeath as he picked Black Diamonds and the Blue Brazil by Ron Ferguson.
He said: "The book is, as the cover says, 'a chronicle of coal, Cowdenbeath and football'.
"Ferguson is good on the town's proud roots, its decline, and the close ties between club and community. It taught me a lot about a place I thought I knew."
Bookfest aims to celebrate the central role that books play in people's lives, and the impact that donating a book or buying a book from Oxfam can have on the lives of poor people around the world.
Last year's festival saw a 9% rise in book donations to Oxfam and a £400,000 increase in book sales.