Celebrated author William McIlvanney talks with Scotland Tonight
Credited with inspiring a Scottish genre, William McIlvanney discusses his work and politics.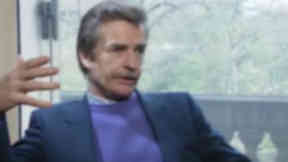 Credited with inspiring a generation of Scottish crime writers, William McIlvanney is enjoying a new wave of interest in his own work after a publisher decided to reprint his back catalogue.
The author of Docherty and the crime trilogy featuring Inspector Jack Laidlaw has been taken aback by the reaction after his books went on sale again last year.
"My reaction was originally total amazement," he told Scotland Tonight.
"I think virtually all the books were out of print. I thought I had no prospect of them coming back into print.
"My agent approached Canongate, and they decided to publish the lot, first of all the Laidlaw books, then the novels and short stories. It was astonishing, a resurrection job."
The renewed interest has left fans asking whether McIlvanney would consider bringing any of his characters back to life.
"I've got ideas for three books, one of them is a Laidlaw, and I think that might be the frontrunner for being attacked now."
"I always did intend to write again — I'm slow of production. When I wrote Docherty I remember my editor kept saying well, that's it finished then, and I kept saying no, I've got more to add, and eventually he phoned and said, 'Right Willie, either you give me the bloody book, or I send in the SAS.'
"I've always been like that, holding back to see if I can improve it, or is it quite as good as I want it to be."
There is now even talk of his Laidlaw novels being adapted for television.
"There is hope that it might be made into a TV series, but I think you have to watch you don't build up your hopes until it becomes something close to concrete. It's in the pipeline that it might happen. There's a man I trust working on the script, and there is a possibility of a television company accepting it."
Ian Rankin, Val McDermid Denise Mina and Chris Brookmyre all agree they owe a huge debt to the 77-year-old's work but it is only recently that he has come to appreciate the high esteem in which is he held.
"It wasn't until the republication and I was appearing at readings along with some of these writers, and they were just so generous towards me. I hadn't realised I was credited with establishing a genre in Scotland. It was an amazing feeling. I don't know if it was true, but I've convinced myself, I'll believe it anyway!"
McIlvanney began his career teaching English, writing crime fiction had never been an ambition.
"I had written a book called Docherty which was about the first quarter of the 20th century. I had kind of contemporary starvation, and I had gone back and talked to ex-miners and read about that era, and I was desperate to write about something contemporary.
"It maybe sounds a bit like Joan of Arc, but I heard a voice. It was a man's voice, quite abrasive, and I made a lot of notes of some of the things he was saying, and I though he obviously has to be in hard places, so I thought he has to be a detective, so I came to write a detective novel through the character of Laidlaw.
"I didn't decide to write a detective novel, and this guy Laidlaw would be in it. He created the idea to write this book and I thought it's got to be a detective novel, so I stumbled into writing a detective novel, it wasn't any deliberate long-term plan or anything."
McIlvanney still writes long-hand with a pen and a piece of paper.
"If the words don't come from the head down the arm on to the page, I'm not quite convinced I'm getting them right," he explained.
"Sometimes when you get the juice up, as Hemingway said, you really want to go, and other times I find it quite a painful process, so you just have to go through it. You have great moments, moments of euphoria when you think this is really working, and moments of self doubt, and you just have to have the nerve to go through all of that to get to where you want to go."
McIlvanney's first novel Remedy is None was published in 1966. Docherty, the story of a miner during the depression, followed in 1975.
The first of his trilogy featuring Inspector Jack Laidlaw first hit the shelves in 1977 — the three novels capture a world that has long since gone.
"When the Laidlaw books were republished I recorded a reading, so I had to read it word by word, line by line.
"I had never done that before, and I thought, I've written a historical novel. The changes are so massive. There are obvious ones, like Laidlaw goes on a bus and there's a conductor there, Laidlaw doesn't have a cell phone obviously.
"I don't mind that because I quite like the idea of a phase of Glasgow's life frozen in time. If I write another Laidlaw it would be, if not quite contemporary, certainly later than the first one and some of these elements would come into it."
The Scotland depicted in his novels has changed, and now the people of Scotland face a decision that could change it even further. McIlvanney's disillusionment with modern politics has gone a long way to making up his mind up about how he will vote in September's independence referendum.
"I will vote Yes, I'm quite sure of that," he said.
"I think it's a risk, but I think it's an even bigger risk staying where we are because I think such things have happened to British politics in my lifetime that they have transformed it.
"You couldn't satirise Britain, it's self-satirising. If you live in a country where bankers demonstrate very totally their utter incompetence and then award themselves a £2m bonus, that's cloud cuckoo land.
"While it's a risk to vote Yes, I would think it's a bigger risk not to, because British politics have become gutted in a way. They've been disembowelled in a way.
"I think a lot of people like me feel they don't have enough hard facts. I think what I'm doing is making a decision of the heart. I will do it, essentially, because I think the alternative is even worse."