Cameron appeals to Olympic spirit in plea to keep Scotland in UK
The prime minister is urging people in the rest of the UK to persuade Scots to vote No.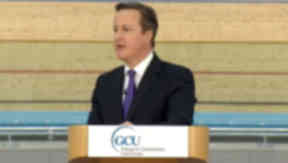 David Cameron has invoked the spirit of the London Olympics in his latest attempt to persuade Scots not to vote for independence in September.
In a speech at the city's Olympic Park, the prime minister said that the whole of the UK stands to lose if Scotland leaves the union.
At the start of the speech he recalled watching Sir Chris Hoy race in the velodrome, and went on to speak of his pride and passion for the United Kingdom.
He said: "I love the United Kingdom and all it stands for. And I will fight with all I have to keep us together."
Warning supporters of the Union that they have only "seven months to save the most extraordinary country in history", he said: "Think of what we've done together - what we can do together - what we stand for together.
"Team GB. The winning team in world history. Let us stick together for a winning future too."
Cameron urged people in England, Wales and Northern Ireland to speak up for the status quo, telling them: "You don't have a vote, but you do have a voice".
He stressed that the decision on independence is "squarely and solely for those in Scotland to make", saying: "It is their choice, their vote".
But added: "My argument today is that though only four million people can vote in this referendum, all 63 million of us are profoundly affected."
He referred to the union as a "family" and also said people with friends, neighbours and family in Scotland should use the phone, email and twitter to make the case to them for voting no in the referendum.
And he appealed to people in Scotland who want to see increased devolution to vote no, and warned there was "no going back" after a yes vote.
He said: "Voting yes means the process of devolution is at an end".
Deputy First Minister Nicola Sturgeon accused Mr Cameron of making a "shameful" attempt to use the Olympics as a "political tool" on the day the 2014 Winter Games begin in Russia.
The Prime Minister's intervention was a sign of "jitters" in the No camp in the face of polls showing growing enthusiasm for independence, she claimed.
The keynote speech marks a departure from Mr Cameron's low-key role in the independence debate. He has repeatedly turned down invitations by Alex Salmond to take part in a televised debate, arguing that the issue should be decided by campaigners in Scotland.
The prime minister's choice of venue is designed to draw parallels between the success of the British team at the London Olympics and the United Kingdom as a political entity.
He also defended his choice to speak about Scotland's future in London, saying he was speaking to those in Wales, Northern Ireland and England, to try and convince them to use their voices to persuade Scots to stay as part of the United Kingdom.
He said: "It's Team GB I want to talk about today - our United Kingdom."
Independence would be bad for Scotland but would also leave the United Kingdom "deeply diminished", Mr Cameron argued. "The plain fact is we matter more in the world together."
He said the outcome of the vote remains "up in the air" and unionists must do "whatever it takes" to persuade the Scots to vote No.
"Let the message ring out from Manchester to Motherwell, from Pembrokeshire to Perth, from Belfast to Bute, from us to the people of Scotland," said.
"Let the message be this: We want you to stay.
"Frankly, I care far too much to stay out of it. This is personal.
"Our great United Kingdom - brave, brilliant, buccaneering, generous, tolerant, proud - this is our country.
"And we built it together. Brick by brick, Scotland, England, Wales, Northern Ireland, brick by brick.
"This is our home - and I could not bear to see that home torn apart. I love this country."
Mr Cameron also invoked his own Scottish heritage to make the case for shared British identity.
He recalled that his surname stems from the West Highland and said: "I am as proud of my Scottish heritage as I am of my English heritage.
"The name Cameron might mean 'crooked nose' but the clan motto is `Let us unite' - and that's exactly what we in these islands have done."
Ms Sturgeon said: "This is a cowardly speech from a prime minister who uses the Olympic Park in London to give high-handed lectures against Scotland's independence but hasn't got the guts to come to Scotland or anywhere else to make his case in a head-to-head debate.
"David Cameron, as the Tory Prime Minister, is the very embodiment of the democratic case for a Yes vote for an independent Scotland - and he knows it."
But the speech was branded "flimsy" by First Minister Alex Salmond.
He told STV: "It is pretty flimsy stuff, it's a couple of pages of speech. The Scottish Government published 670 pages in our White Paper. This is a pretty flimsy reply."
Mr Salmond likened Mr Cameron to a Greek God, delivering edicts from "on high, from Mount Olympus", and challenged him to take part in a debate in Aberdeen.
The UK and Scottish cabinets will be just ten mile apart when they both visit the area in two weeks time.
He said: "I think we have gone beyond that now. If the Prime Minister wants to enter the debate, let's have a genuine debate in Scotland.
"In two weeks time, he is bringing the UK cabinet to Aberdeen. The Scottish cabinet is also in Portlethen. We are ten miles apart. Let's have that debate. A debate where people get to answer back and cross question , as opposed to delivering edicts from Mount Olympus.
"If the Prime Minister is not prepared to accept that then people are going to start to ask: 'What is he frightened of?'
"I look forward to that debate. He's going to find it very difficult to dodge it."
Mr Salmond added: "I think he has got a number of problems. People in Scotland look at David Cameron and they see the embodiment of the bedroom tax, of Trident missiles, of austerity, of a Conservative Prime Minister with one MP in Scotland - less than the pandas - telling Scotland what to do. He is the embodiment of the case for running our own affairs."
Salmond also restated his confidence that the Scottish economy would flourish in the event of independence.
He said: "If Scotland votes no, we will get taken to the cleaners by George Osborne and the London treasury. If Scotland votes yes, with our population, our natural resources and our people, we can look forward to a prosperous future in co operation with our friends across the rest of the UK."
Yes Scotland Chief Executive, Blair Jenkins said: 'David Cameron continues to lecture Scotland, but still refuses to debate in Scotland. To use the Olympic Games as a political tool shows that the No campaign and its leader are running scared and running out of ideas. The positive case for No clearly doesn't exist.
'In September, we have a chance to put Scotland's future in Scotland's hands and ensure that we always get the government we vote for.
'His position on refusing to debate with the First Minister of Scotland is becoming increasingly untenable."
The British Chambers of Commerce director general John Longworth said: "While an independent Scotland could be a viable country, the break-up of the Union between Scotland and the rest of the UK would certainly be disruptive to business, to the economy, and to British politics as we know it.
"Scotland leaving the Union would be a much bigger deal even than the UK leaving the EU - as the constitutional and economic ties are even greater. Crucially, in both cases, there would be no turning back."
The chief executive of manufacturers organisation EEF, Terry Scuoler - a Glaswegian and former captain in the Argyll and Sutherland Highlanders - said: "The Prime Minister is right to set out the many positive economic and political reasons why Scotland should remain part of the United Kingdom.
"I personally understand the emotional drivers behind the idea of an independent Scotland. However, I think the longstanding economic and cultural ties with the UK represent a far stronger gravitational force in favour of the union.
"Many businesses are now setting out their concerns, putting their heads above the parapet and saying why they are opposed to an independent Scotland. Many others are telling me privately that they are against any suggestion of Scotland ejecting itself from the UK. The enemy of investment and stability in business is uncertainty. While the economic risks around independence are not fully quantified, they do represent a significant gamble."
Read David Cameron's speech in full.