Lockerbie bomber Megrahi appears on Libyan television
Apparently live images of the man freed after being convicted of the 1988 terror attack are shown from a political rally.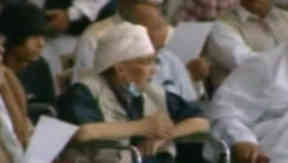 The man convicted of killing 270 people in the Lockerbie bombing has been seen on Libyan television.
Abdelbaset al Megrahi was released from a Scottish prison almost two years ago on compassionate grounds, after serving nearly eight years of a 27-year sentence. In 1988, the Pan Am Flight 103 travelling from London to New York was targeted in a bomb attack, causing it to crash in Lockerbie.
On the television footage, a presenter introduced Megrahi at what appears to be a pro-government rally, and said his conviction was the result of a "conspiracy". He also said his release had been a victory against oppression. It has been reported that during the apparently live broadcast, Megrahi was in a wheelchair.
Megrahi returned to Libya after being freed in August 2009. He had been diagnosed with advanced prostate cancer and the Scottish Government released him on compassionate grounds after judging that he had about three months to live. He has rarely been seen since his return.
SNP MSP Christine Grahame is convenor of the justice committee at the Scottish Parliament. She believes Megrahi was the victim of a miscarriage of justice, and told STV News she is "not unhappy" to see Megrahi alive - and believes he would have had no choice about attending the pro-Gaddafi rally.
However, other politicians have reacted with anger. Iain Gray, the outgoing Scottish Labour leader, said the TV appearance was an "embarrassment" for Kenny MacAskill, the Justice Secretary who released him, and First Minister Alex Salmond.  John Lamont, Scottish Conservative MSP and a member of the Justice Committee, added: "The last thing relatives of the 270 people murdered by the Lockerbie Bomber need to see is the sight of him alive and well and free, almost two years after he was released by the SNP Government.
"It was a bad decision made badly and one that shames Scotland around the world. The day is fast approaching when the SNP Government will have to apologise for this terrible decision."
Margaret Scott, Megrahi's defence QC, told appeal judges at the time that his "absolute priority in the little time he has left is to spend it with his family in his homeland". The decision to free him came on August 20, 2009, in an announcement from Mr MacAskill.
But his release was met with widespread criticism, with the US Secretary of State Hillary Clinton branding it "absolutely wrong". Of the 270 victims, 189 were American. Eleven residents of Lockerbie also died after the plane crashed down on their homes.
On Wednesday, William Hague - the Foreign Secretary - also condemned the latest development.  He said: "I think the appearance of Mr al-Megrahi on our television screens is a further reminder that a great mistake was made when he was released.
"The Prime Minister and I, when we were in opposition, both strongly disagreed with that position by Scottish ministers. We disagreed with what has subsequently been revealed about the facilitation by the previous Labour government at Westminster of moves towards the release of al-Megrahi."
He added: "This was absolutely the wrong thing to do. It shows the medical advice it was based on was pretty much worthless and I think many people, particularly the families of those killed at Lockerbie, I think their anger and outrage at this release will be further intensified by what we have seen.
"So it has always been our view this was a mistake and this simply confirms that."
IN DETAIL