Scots power plant could become dumping ground for nuclear submarines
Chapelcross power plant, in Dumfriesshire, on shortlist of sites across UK that could be used as a temporary storage area for 27 dismantled vessels.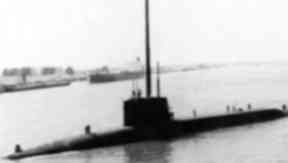 A closed Scottish power station has been shortlisted by the Ministry of Defence as a possible dumping ground for nuclear waste from decommissioned submarines.
Chapelcross power plant, in Dumfriesshire, is on a list along with four other locations across the UK that could be used as a temporary storage area for 27 vessels set to be dismantled, until around 2040.
The MOD's Submarine Dismantling Project (SDP) is developing a solution for the dismantling of 27 Royal Navy nuclear submarines, once they have left Naval service and have been defueled.
They include 11 submarines currently stored afloat at Devonport and seven at Rosyth, as well as nine submarines that are still in service.
The plan proposes the safe temporary storage of the radioactive waste which comes as a result of dismantling, until it can be disposed of in the UK's planned Geological Disposal Facility (GDF).
The other locations on the shortlist are Aldermaston and Burghfield power stations in Berkshire, Sellafield power plant in Cumbria and Capenhurst power plant in Cheshire.
The location chosen will be used as an interim storage site for reactor components until after 2040, when the UK's Geological Disposal Facility, a disposal facility for the permanent disposal of spent fuel and nuclear waste, is planned to come into operation.
The MOD will meet with local authorities, elected representatives and established site stakeholder groups to provide an early opportunity for the relevant parties to understand and comment on the plans.
A formal public consultation will also be carried out before any decisions are made.
The final shortlist of sites is set to be published in summer 2014 and will then be taken forward as the basis for public consultation.
A government report entitled, Submarine Dismantling Project, Intermediate Level Waste Storage, Provisional Shortlist read: "The MOD is committed to being as open and transparent on the SDP as possible and recognises that, to deliver an effective public consultation, the SDP team needs to engage early with stakeholders to discuss the process for assessing sites and engaging local communities.
"In line with good practice, therefore, the MOD has undertaken an initial assessment of both the availability and suitability of all existing UK nuclear sites ('the longlist') and published a provisional shortlist of sites for further assessment."
Read the official report here: