Salmond insists independent Scotland can keep pound and stay in EU
First Minister spoke after UK parties rejected pound union and EU chiefs issued membership warning.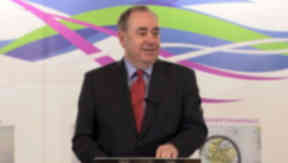 First Minister Alex Salmond has insisted an independent Scotland can keep the pound and remain in the EU, despite both being called into question by UK and EU leaders.
Mr Salmond addressed a media event of pro-independence business bosses in Aberdeen on Monday.
It came days after the three main UK parties united to insist future Conservative, Labour and Liberal Democrat governments at Westminster would not enter a currency zone with an independent Scotland.
It also came after comments by European Commission President José Manuel Barroso, who said it would be "difficult, if not impossible" for an independent Scotland to become a member of the European Union.
However, speaking at an event organised by Business for Scotland, which campaigns for a Yes vote in the referendum, Mr Salmond said it was in the economic interests of the rest of the UK to cooperate in a monetary union.
The First Minister claimed that, should the remainder of the United Kingdom reject a sterlingzone, it could impose a "transaction cost" running to "hundreds of millions".
Referring to UK chancellor George Osborne's ruling out of a currency union, he told the audience: "I am publishing today an estimate of the transactions cost he would potentially impose on businesses in the rest of the UK.
"They run to many hundreds of millions of pounds. My submission is that this charge - let us call it the George Tax - would be impossible to sell to English business."
Mr Salmond also reiterated his warning that an independent Scotland would not take its share of the national debt if the UK Government did not agree to monetary union.
Mr Osborne gave a speech in Edinburgh on Thursday confirming a future Conservative government would not sign up to monetary union if Scotland votes Yes.
He said: "The Scottish Government says that if Scotland becomes independent there will be a currency union and Scotland will share the pound. People need to know – that is not going to happen."
Mr Osborne added: "If Scotland walks away from the UK, it walks away from the pound."
Shadow chancellor Ed Balls and Chief Treasury Secretary Danny Alexander echoed his remarks on behalf of the Labour Party and the Liberal Democrats, respectively.
On Monday, Mr Salmond said the Chancellor's stance would "backfire" with the Scottish electorate, who go to the polls on September 18. The First Minister claimed Mr Osborne's speech had been received "poorly" in Scotland.
He told those assembled: "Phone-ins, newspaper polls taken after the Chancellor's statement indicated his diktat had backfired badly. People do become sick and tired of the succession of day-tripping Conservative ministers flying up to Scotland to deliver lectures and then flying back to Westminster again."
The SNP leader continued: "No one with a semblance of understanding of Scottish history and indeed the Scottish character would have made a speech such as the Chancellor delivered last week. To be told that we have no rights to assets jointly built up is as insulting as it is demeaning.
"To be told there are things we can't do will certainly elicit a Scottish response that is as resolute as it is uncomfortable to the No campaign - it is yes, we can. It is a sign of how out of touch and arrogant the Westminster establishment have become."
Mr Salmond attacked Mr Balls for agreeing with Mr Osborne. He said: "The two futures on offer in this referendum will come under renewed scrutiny, particularly from those dismayed by the Labour Party's actions last week."
The First Minister also maintained that Scotland could vote Yes and become a member of the European Union.
His remarks followed an interview given to the BBC's Andrew Marr on Sunday by EC President Mr Barroso.
Mr Barroso said: "In a case that there is a new country, a new state, coming out of a current member state, it will have to apply. And access to the European Union will have to be approved by all other member states of the European Union.
"Of course it will be extremely difficult to get the approval of all the other member states to have a new member coming from one member state. I believe it's going to be extremely difficult, if not impossible, for a new member state coming out of one of our countries getting the agreement of the others."
Citing a former judge of the European Court of Justice, Mr Salmond countered President Barroso's statement.
"The same democratic logic applies to the comments of Mr Barroso yesterday. As Sir David Edward, formerly of the European Court of Justice has pointed out, from the point of a yes vote, is it certain 'that EU law would require all parties to negotiate in good faith and in a spirit of cooperation'."
He added: "The decision is one for member states, but not to recognise the democratic will of Scotland would run counter to the entire EU European ideal of democratic expression and inclusion. It would pose a challenge to the integrity of the European Union even greater and more fundamental than the threat of British withdrawal. That is why no member state has suggested that it would seek to block Scottish membership.
"Of course in all of these matters with currency, and Europe practical discussions could take place now – not negotiations which prejudge the outcome but sensible technical conversations."