Renewable energy boost for rural communities
Minister: Green energy offers farmers and landowners 'opportunity to cut costs and generate new income'.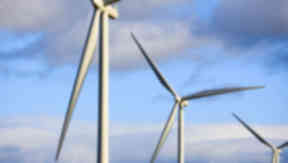 A plan to help farmers and landowners benefit from the "renewables revolution" will boost rural communities, the government said.
Creating an "agri-renewables strategy" will help land managers expand renewable energy projects, according to Rural Affairs Secretary Richard Lochhead.
He said the strategy will consider the planning system, reconstruction costs and connecting renewable energy supplies to the National Grid.
Mr Lochhead said: "Scotland is currently experiencing a renewables revolution and I want to see farmers, crofters and land managers working with local communities to ensure they grasp the benefits for their businesses and the nation.
"Farmers and land managers have access to our nation's abundance of natural resources, so it is no wonder they are already queuing up to grasp the opportunities presented by renewables.
"The renewables revolution offers our farmers and land-based industries the opportunity to cut energy costs, generate new income and contribute to our low carbon future.
"However, we are all on a steep learning curve and need to quickly learn to take advantage of the industry's increasing enthusiasm. We need to get our heads around the various challenges as well as the opportunities.
"Issues such as funding, planning, accessing grid connections, choosing the best technology and so on are all topics that farmers and others wish to see addressed in a well-thought out strategy.
"Working with the industry, the Scottish government is keen to deliver a strategy that ensures our renewables potential, boosts rural development and (ensures) a more profitable agriculture sector."
Mr Lochhead said the plan could be in place by summer 2012.