PCS union votes to take no sides in Scottish independence debate
More than 18,000 members at one of Scotland's biggest trade unions voted to stay neutral, while almost 6000 voted for Yes Campaign and none for No Campaign.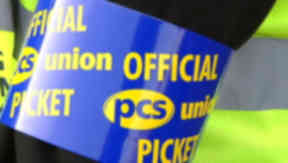 One of Scotland's biggest trade unions has voted against taking any sides in the Scottish independence debate, with zero support for a no vote.
Members of the Public and Commercial Services (PCS) union voted on Saturday on whether to back the Yes or No campaign or stay neutral at a conference in Glasgow.
They voted overwhelmingly to stay neutral in their position on September's independence referendum
A total of 18,025 members voted in favour of remaining neutral, 5775 voted in favour of supporting independence while zero votes were cast in favour of backing the no campaign.
Delegates from every part of the country attended this debate after consulting their branches on what stance to take in the independence campaign. The union represents 30,000 civil servants in Scotland.
Trade unions including the GMB and Aslef have declared their support for the No campaign. The prison officers association has said it would support a yes vote.
The outcome of Saturday's vote will now be considered by the union's National Executive Committee and the final decision will be taken at its annual conference in May.
Janice Godrich, PCS national president and chair of the conference, said "Today we've seen PCS members present thoughtful, balanced arguments weighing up the pros and cons of the way forward for the union and its members. Today does not mean sitting on the fence.
"'PCS informs - you decide' will mean taking our arguments for an alternative to austerity, for properly resourced public services, for jobs, for fairness to all sides of the constitutional debate in the run up to the referendum and beyond."
Ms Henderson spoke for a neutral position. She said the official campaigns, Yes Scotland and Better Together, had "misjudged the people of Scotland", adding that voters do not want a "slagging match".
"We have 50 shades of tartan in this debate, with many people still to make up their minds," she said.
"It is our electoral challenge to engage with both sides, yes and no, and also the argument for more powers."
She added: "Whatever the outcome of the vote today, in May, or in September, our industrial demands will remain."
Ms Sturgeon made the bid for a yes vote, stating that Scotland could be a "progressive beacon" under independence.
"Right now the UK is one of the most unequal societies in the developed world," she said.
"That's not something that has happened overnight, or even since the Tories got back in in 2010.
"It's the result of decades of Westminster government decisions. Very often these are governments which the vast majority of people here in Scotland didn't even vote for in the first place."
Ms Sturgeon also offered guarantees to union members who are currently working for the UK civil service, and stated her party's support for public services.
"I am not neutral about who provides public services. Public services must always be provided in the public interest by the public sector."
She made "explicit commitments" that there would be continuity of employment for all staff, by transferring them from UK Government departments to new Scottish ones.
Ms Sturgeon said: "I can guarantee you that we will protect your terms and conditions and your pensions.
"We will extend the no compulsory redundancy guarantee to all staff who transfer from Westminster departments.
"I know there will be people from the opposite side of the debate who want to scare people with unfounded assertions about threats to employment. What they don't want to talk about are the job cuts that are happening right now."
Mr Findlay followed Ms Sturgeon on stage with an address in support of a campaigning for a No vote.
He said: "Do we accept the council of despair view that Britain will never change?
"And do we say to our brothers and sisters in England and Wales that we're withdrawing politically, socially and economically from the relationship we share?
"And do we withdraw 58 non-Tory MPs from Westminster, leaving workers in the UK with the possibility of even more Tory futures?
"I want political change, but I want political change to improve the lives of people from Shetland to Dorset, from Cardiff to Belfast.
"That is the solidarity the movement was founded on, and should continue to build."