Homes evacuated in north east due to flooding fears as downpour continues
Aberdeenshire homes evacuated as torrential downpour sparks fears of flooding in the area.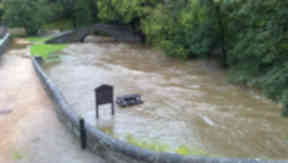 Nearly 50 elderly people have been evacuated from a care home amid fears of flooding in the north-east.
Red Cross staff removed 46 elderly residents of The Meadows care home in Burnside Road, Huntly after the rain-swollen River Deveron in Aberdeenshire became dangerously high.
Aberdeenshire Council evacuated the Meadows area of the town as a precautionary measure and set up a rest centre at Gordon Schools for those displaced, as torrential rain threatened to inundate the region.
The council's area manager, Les Allan, said: "We hope the rest centre can help minimise disruption to those in the Meadows area, but it is important that anyone who chooses not to take advantage of this informs us, so that we know they're safe and where to contact them.
"We should emphasise that at this stage this is purely a precautionary evacuation and there is no serious flooding on the ground as yet.
"But this could change and we want to work with residents to be as prepared as possible for any eventuality."
River swell
Aberdeenshire was one of the worst hit regions by flooding, while the Scottish Environmental Protection Agency (Sepa) also issued a flood warning for Moray and Speyside on Monday afternoon.
The Red Cross called in volunteers from Aberdeen and Elgin to help evacuate The Meadows care home.
Ian Rideout, Red Cross operations director for northern Scotland, said: "We were called in to help as soon as the river showed signs of bursting its banks.
"Our volunteers, who are all highly trained, helped care home staff move residents to the Red Cross vehicles to be transferred to alternative temporary accommodation, including the local hospital.
"The problem was caused by the continuing rainfall which has brought chaos to many parts of northern Scotland since the weekend. Our experienced volunteers are on standby to assist with any weather-related situations that arise."
It is the second time in less than a year that The Meadows care home has been evacuated because the Deveron was threatening to burst its banks. In September of last year Red Cross mercy teams were called in to help move residents to safety.
Red Cross volunteers were in action round the clock at the weekend when torrential downpours washed out camping areas at the Tartan Heart music festival at Belladrum, Inverness-shire.
They cared for more than 60 people – many of them families with young children – in a makeshift rest centre set up in one of the performance tents on higher ground. Emergency supplies of blankets and heaters were brought in from a Red Cross store 22 miles away at Dalcross.
Flood warnings
Sepa had previously urged residents across the north east to prepare for flooding due to a predicted downpour, however these warnings were stood down by Monday afternoon.
The River Isla in Keith, Moray, burst its banks as the torrential rain continued on Monday.
Torrential rain brought flooding to several areas over the weekend, including Dundee, Angus and parts of Inverness. In Angus the Montrose Highland Games was cancelled, with organisers saying that the conditions made it impossible to hold any competitions.
And the Keith Country Show in Moray was also called off on Monday due to the adverse weather conditions.
STV weatherman Sean Batty said: "The worst of this weekend's rainfall has been around Easter Ross, Inverness-shire, Moray, Angus and the Aberdeenshire area with over two inches of rain falling in some areas.
"Most northern and eastern areas of the country normally have about 60-80mm during the whole month of August which means some areas have had around three-quarters of their normal rainfall for the whole month in just a few days.
"We will continue to see showery conditions affecting many northern areas on Monday and Tuesday, although nothing as prolonged and heavy as the rainfall over the weekend.
"The next thing we are keeping an eye on is heavy rain which will affect western areas of the country in particular during Wednesday and into Thursday. The rain is likely to cause more localised flooding."
Information for anyone who is concerned about flooding in their area, and a live tracker of flood alerts, can be found on the Sepa website.
Forecasts for Scotland can be found on STV Weather.