Scotland records one of highest ever rates of drugs deaths
There were 485 drug-related deaths in 2010 more than half of which heroin and morphine were implicated in.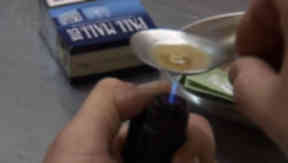 Scotland saw one of its highest ever rates in drug-related deaths in 2010, according to new statistics.
There were 485 drug-related deaths in 2010 more than half of which heroin and morphine were involved.
However the Scottish Government welcomed the latest figures, released by the General Register Office for Scotland on Tuesday, as it represented a second successive fall in drugs deaths.
However, the statistics represent the third highest number of drug-related deaths ever recorded in Scotland – with the highest figures being in the preceding years with 574 deaths in 2008 and 545 in 2009.
The Greater Glasgow and Clyde NHS board area saw the highest percentage of drugs deaths, while the Lanarkshire, Lothian and Ayrshire and Arran regions saw increases in the number of deaths.
Community safety minister Roseanna Cunningham MSP said: "These figures published today represent 485 lives lost to families and communities across Scotland and while I welcome the news of a further decrease, any death is one too many.
"Tackling drugs misuse is a complex issue which the Scottish Government has been working hard to address. With more than half of deaths due to heroin and morphine in 2010, it is clear serious drug misuse remains a significant problem to be addressed.
"However, our national drugs strategy offers a framework to tackle Scotland's legacy of drug misuse through action, not through words.
"The number of lives lost to drugs misuse remains high. We will continue to work closely with the National Forum for Drug Related Deaths and partners from the voluntary, statutory, policy and academic fields to reduce the number of drug related deaths and reaffirm loud and clear our shared belief that people can and do recover from drug problems and addiction."
Some 75% of the drug deaths recorded in 2010 were of men, 33% were aged between 25 and 34 years old.
Methadone, benzodiazepines (such as diazepam), cocaine, ecstasy, amphetamines and alcohol were among the other drugs that were implicated in or possibly contributed to deaths in Scotland.
IN DETAIL