Awards given after thousands of children vote for favourite books
Winners of Scottish Children's Book Awards 2013 announced at Mitchell Library in Glasgow.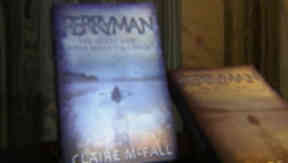 Thousands of children have voted for their favourite book, with a time-travelling adventure coming out top.
Edinburgh author Janis Mackay took the prize in the age eight to 11 category after a record 38,000 youngsters cast their vote in the Scottish Children's Book Awards 2013.
The Accidental Time Traveller sees a girl from the 19th century suddenly appear in the street, and it is up to Saul and his two friends to get her back to where she came from.
Three to seven-year-olds chose Jumblebum, the story of a mess-loving monster by Fife-based author Chae Strathie, as their favourite book of last year.
Ferryman by Claire McFall from the Borders was selected in the age 12 to 16 category as teenagers voted for the tale of Dylan, a girl who emerges from the wreckage of a train crash on to a bleak Scottish hillside.
The three winners were announced at a ceremony at Glasgow's Mitchell Library on Wednesday, the eve of World Book Day, and will each receive £3000.
Organisers Scottish Book Trust and Creative Scotland this year welcomed a 20% increase in the number of votes cast in the awards, which began in 2006 with just 2000 children taking part.
Ms Mackay said: "It has been such a wonderful opportunity to be shortlisted for this award. Suddenly my books are in the consciousness of hundreds of teachers and librarians — and pupils — and I have been invited to many schools and libraries and book festivals."
Mr Strathie said: "I'm beyond delighted to have won this fantastic award. It's without doubt the highlight of my writing career so far. To even be in the same category as such fabulous writers as Debi Gliori and Julia Donaldson was exciting enough, so this is the bees knees."
Debut author Ms McFall, an English teacher, said it was "an incredible surprise" to win.
Jasmine Fassl, head of schools at Scottish Book Trust, said: "There is nothing nicer than celebrating the books that children themselves have enjoyed reading, and the passion of the teachers, librarians, parents and authors who take part in the Scottish Children's Book Awards are playing a key part in inspiring a new generation of book lovers."