Scots scientists in treatment hope for rare condition
Robert Gordon University in Aberdeen receives £100,000 donation to find a new way of treating cystinosis.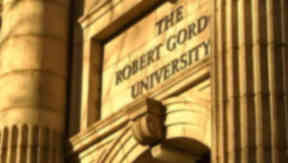 A man whose daughter suffers from a rare genetic condition has welcomed research into the development of a new treatment.
Roy Forsyth, whose daughter Lena was diagnosed with cystinosis at the age of seven months, said a £100,000 research gift "would make a great difference".
A team of researchers at Robert Gordon University (RGU) has been given the six-figure donation from a children's charity to find a new way of treating the condition.
Sparks, a leading children's medical research charity, has given the team, based at the university's School of Pharmacy and Life Sciences, £101,554 to develop a gel for the treatment of eye-related complications in patients with cystinosis.
Cystinosis is a rare disease primarily affecting children where the amino acid cystine accumulates in all body organs.
Unlike regularly functioning bodies where cystine is naturally broken down, cystinotic patients suffer from the formation of crystalised deposits which, if untreated, can lead to kidney failure by the age of 10, progressing to the liver and eyes, and death in the second decade of life.
Cystine in the eye makes patients severely sensitive to light and induces chronic eyelid spasms.
The current oral treatment for cystinosis - cysteamine, which lowers the levels of the amino acid - has no effect on the eyes. As such, patients must use eye-drops on an hourly basis to slow the accumulation of crystal deposits.
The team of researchers, which comprises Dr Graeme Kay, Professor Donald Cairns, Dr Rachel Knott and Dr Kerr Matthews, has worked collaboratively for more than five years studying cystinosis - which currently affects around 150 children in the UK - and formulating novel approaches to its treatment.
Mr Forsyth, chairperson of the Cystinosis Foundation UK, said his daughter, who is now 10, has shown "incredible positivity" in managing her condition.
The 39-year-old, from Mintlaw in Aberdeenshire, said: "We are delighted that Sparks have made such a significant donation to RGU for this work.
"Creating an eye gel that may only have to be used once a day will make a great difference to the lives of people and their families with this rare condition. We are always glad to support the high quality work carried out by the team at the university."