Scotland battered by high winds in aftermath of Atlantic hurricane
Travel disruption and coastal flooding expected as gale-force winds and heavy rain sweep the country.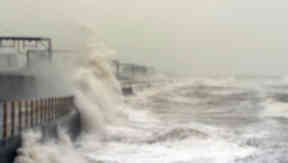 Scotland is being battered by high winds and heavy rain in the aftermath of Hurricane Katia.
Winds of up to 70mph are already hitting parts of the country and are expected to continue for the next couple of days, particularly across the central belt.
There are gale-force winds and heavy rain which has caused travel disruption and coastal flooding as the remnants of the hurricane sweep across the UK.
On Monday afternoon Argyll and Ayrshire coast experienced winds of over 60mph with gusts on Islay of nearly 70mph. Glasgow and Edinburgh are experiencing gusts in the mid-40s but can expect up to 70mph later this afternoon.
In Inverclyde, a few hundred houses in Inverkip were left without power from around 3.15pm on Monday. A spokesman from Scottish Power said engineers were working on fixing the problem and it was unclear at this stage if the power outage was as a direct result of the stormy conditions.
The Met Office issued a warning urging people in the whole of the country, the north, west and south west of England, Ireland and Wales to 'be aware'.
The weather agency said that the storm is expected to arrive on the coast of the UK on Monday, bringing a spell of very windy weather.
A Met Office spokesperson said: "The public should be aware of the risk of disruption to transport and of the possibility of damage to trees and structures."
Forecasters on Sunday predicted that the weather would worsen dramatically during the early hours of Monday morning.
The storm will bring heavy rain in from the southwest, accompanied by strengthening south to south-easterly winds, giving gales in the west later in the day.
Gusts of 70 to 80mph are expected across central and southern Scotland, Argyll and the Western Isles. Meanwhile, mountains in the west central area could experience winds of up to 100mph.
Forecast
STV Weatherman Sean Batty said: "The central belt will be one of the worst hit areas as the wind funnels in from west to east. We can expect winds gusting up to 70mph throughout the lowlands and again higher over the hills and bridges.
"As the air 'bounces' over the hills and descends into the east (Borders, Angus and parts of Fife) we could see gusts of up to 80mph.
"The strongest winds will be between 3pm and 9pm on Monday - not great news as it'll be during the rush hour. Something else which is of concern is that many western parts have their high tides (which are particularly high just now) around 5pm-6pm, coinciding with the strongest winds and bringing the risk of coastal flooding from a surge and large waves.
"For the north the winds will be very strong for the Hebrides early Monday morning before easing as the 'eye' of the storm passes overhead but then we can expect strong winds again around Angus, Aberdeenshire later in the day."
The forecaster said that traffic disruption was highly likely, with road and bridge closures probable and a high risk of trees and power lines coming down. He also warned of coastal flooding and possible cancellations of ferry and small aircraft services.
Ferry services in the west of Scotland have been disrupted and CalMac is warning that many could be cancelled at short notice.
Scotrail is warning about possible disruption to the train services on Monday afternoon.
Preparations
Transport Minister Keith Brown promised that the authorities were ready to deal with any eventuality caused by the storm.
He said: "A great deal of work is already well underway to ensure Scotland is prepared for any potential disruption. This afternoon I've convened a meeting of the Scottish Government's Resilience Room, where I've been updated on the steps being taken by utilities, transport providers, police and others to make sure Scotland keeps moving.
"Transport Scotland's Multi Agency Response Team has been activated and will be up and running before rush hour tomorrow morning. Extra power and transport staff are being moved in to areas likely to be affected, and utility companies are contacting their priority customers.
"Some strong winds and heavy rain are forecast for Monday and Tuesday, and forecasts suggest travel conditions are likely to be difficult. Robust contingency arrangements are in place so people should not panic but we should be prepared. For example, there is likely to be some disruption to roads, rail and ferry services, so travellers are advised to allow more time for journeys.
"The high winds and heavy rain are expected to peak on Monday afternoon and evening, so commuters are advised that if they can leave work earlier that would be a very sensible step to help avoid rush-hour delays. We are all working hard to keep Scotland moving and I urge everyone to allow extra time for travel, avoid unnecessary risks and keep checking websites and local radio for real-time information"
Up-to-date information on the storm can be found on the STV Weather site.
IN DETAIL