'Quarter of Scots' suffer from mental health problems
A survey suggests lack of understanding about bipolar disorder is leading to people being stigmatised.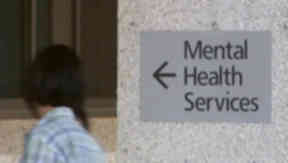 A quarter of Scots suffer from mental health problems at some point in their lives, a new survey has revealed.
But despite the high number, sufferers of bipolar believe most people have no understanding about their disorder.
The survey suggests the condition, which used to be known as manic depression, is leading to people being stigmatised and too scared to seek help.
Published at the start of Bipolar Awareness Week, it shows 93% of sufferers believe people in general did not understand or recognise bi-polar.
The survey also said 70% of suffers said they had problems finding work because of the illness, while nearly half have given up their jobs as a result.
Blu Edwards, 34, was diagnosed with the illness three years ago while having his blood pressure checked routinely at work.
At the worst of his illness he was suffering from panic attacks, severe depression and felt suicidal. When he began hearing voices he was admitted to hospital.
He said: "I was the crazy friend to take on a night out."
Now he is enjoying his life with the help of medication and hopes the condition will soon not be seen as "socially unacceptable".