Scotland Tonight: Interview with Kelpies sculptor Andy Scott
The 30m, 300-tonne sculptures outside Grangemouth have been officially opened.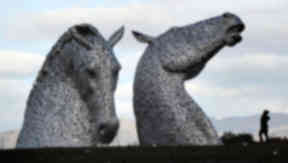 Standing at 30 metres high and weighing 300 tonnes, the Kelpies have already become a widely recognised landmark in the Scottish landscape.
On Thursday a spectacular half-hour pyrotechnic display marked their official launch.
The event also kicked off the John Muir Festival, celebrating the life of the Scottish conservationist on the 100th anniversary of his death.
Following the launch, the sculptor behind the Kelpies, Andy Scott, spoke to Scotland Tonight.