Scots likely to vote Yes if they think Tories will win UK election
ICM recorded the highest overall support for independence since last August at 48% excluding "don't knows", poll revealed.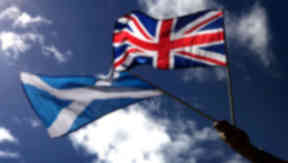 People in Scotland are more likely to vote for independence if they think the Conservatives will win the next UK general election, a poll suggests.
But the prospect of a Labour government would see a surge in support for the union, with more voters rejecting independence, the ICM poll found.
ICM recorded the highest overall support for independence since last August at 48% excluding "don't knows", results reported in the Scotland on Sunday revealed.
If the Tories look like winning the 2015 general election the Yes campaign could be on the cusp of victory at 49% excluding undecided voters, according to further ICM results published by sister paper The Scotsman.
The party, which has one MP in Scotland, could also lose its only Scottish MEP to Eurosceptic party Ukip at the European elections next month, the poll suggests.
Overall, ICM found 39% in support of independence with 42% against and 19% undecided.
The prospect of a Tory government would see a two per cent swing from undecided to boost Yes to 41% while the No vote remains unchanged.
The prospect of a Labour government would see support for independence fall to 36%, support for the union surge to 44% and leave 20% undecided.
Support for Ukip is on the rise and they are on the verge of becoming Scotland's third most popular party in the European Parliament, according to ICM voting intentions.
The SNP remains the most popular party at 37%, although support is down 4% on last month, with Labour holding fairly steady in second place at 28%.
Tory support has dropped two points to 11% while support for Ukip is up four points to 10%.
Lib Dem support was two points up at 7% while the Greens remained unchanged at 4%.
ICM interviewed an online sample of 1004 Scottish adults aged 16+ on 14-16 April 2014.
Deputy first minister Nicola Sturgeon said: "With just one MP in Scotland, the Tories have no mandate here. And yet people across Scotland are paying a huge price at the hands of a Tory-Lib Dem government that they did not elect.
"Only a Yes vote in September will put an end to the democratic deficit we face under Westminster rule. Only independence can ensure that Scotland gets the government it votes for - every time.
"With recent polls showing support for Yes at new highs, more and more people are realising that Scotland's future is an independent one."
Tasmina Ahmed-Sheikh, the third placed candidate on the SNP's list for the European Parliament, said: "Coming on the back of a significant boost in support for Yes, this is extremely welcome news for the SNP.
"This very encouraging poll - after nearly seven years in government - underlines the hard work undertaken by the SNP in representing the interests of Scotland at home and in Europe.
"There is a long way to go and we take nothing for granted, but the European elections are a fantastic opportunity to stand on the SNP's positive message of an independent Scotland playing a constructive role at the heart of Europe - in contrast to Westminster threatening isolation through an in/out referendum."