Interview with Lockerbie bomber full transcript: Megrahi breaks silence
Abdelbaset al Megrahi tells Reuters television that he wants to be left to die in peace.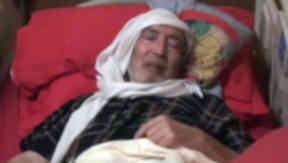 This is a full transcript of the interview with Reuters television with Abdelbaset al Megrahi translated from the Arabic:
On the truth of the bombing
"The head of the Lockerbie victims committee, Dr (Jim) Swire, has visited me in jail. The governor of the jail said this is the first time that the family of victims visited a person who is convicted for this case. He told me very clearly that we are not really convinced of your conviction. The facts will become clear one day and hopefully in the near future. In a few months from now, you will see new facts that will be announced. I don't want to speak about that because there are people who are looking after that themselves. They reached their conclusion already. The day before yesterday, Dr. Swire sent me an email to tell me that there is a new medicine. Poor guy, he is trying to help me. He told me how to get this medicine.
On Camp Zeist
"Camp Zeist Court is the smallest place on earth that contains the largest number of liars. I suffered from the liars at Camp Zeist Court more than you can imagine."
On the Libyan Revolution
"Don't get me into the mess of February, March or April. I'm a simple person, more simple than you can imagine. The West exaggerated my name. Please leave me alone. I only have a few more days, weeks or months. I want to die in my house, among my family. I wish from God that I will see my country united, with no fighting or war. I hope the bloodshed will stop in Libya. I wish all the best for my country."
On his medical treatment
"I was treated badly when I came back. During the latest incidents, especially in the last month, I have a shortage of all my medicines. My doctor tells me to look for medicine like anyone else despite the agreement between us and Britain."
On his wish for Libya
"I wish that all Libyans will stop the bloodshed."
On his treatment in Libya
"Until now, I have a problem with medicine. Now there is a Tunisian person who is trying to find alternative medicine. I have only four tablets and after this it will finish. It will finish in four days. I have an injection that I have to take on October 4. Me and my family and my friends are trying to bring me the medicine from outside. Why is this the way I am treated? I didn't harm anyone. I've never harmed anyone in my life."
On his condition
"I don't have any problem with anyone. I don't know anything about the February 17 Revolution. I don't know about this occasion. I don't listen to any news because I am sick. You keep asking me what do you think, what do you believe - I don't really care. I'm a sick man. For me, I'll meet God any minute. I'm a sick person. I'm very tired. I don't even know who those February 17 men are. I'm in bed but I can still hear the airplanes overhead and we cannot sleep because of the shelling."
On the attack on his home.
"My house was raided. They smashed through the door and they got in. My cars were stolen. My personal car, my wife's car and the cars of my sons were confiscated. The main door was smashed. They introduced themselves sometimes as rebels of one person and then half an hour later another group came saying they represent fighters from another rebel group."
On his work for Libya
"I'm suspended from work. I don't have a job. I don't have any job. I didn't harm any Libyan. I did not insult any Libyan. I challenge any Libyan to come out and say this man did something wrong to me. I was only doing administrative work (at the intelligence), which didn't have any relation to Libyans."
His wife Aisha said:  "We want them to let us live peacefully. We don't need anything from them. This man has only a few days left to live. Leave him to die in peace. Honestly, they (the new regime) insulted us."
His son Mohammed said:  "We suffered a lot during the last few days. They come and raid the house at night, in the early morning, at no fixed time. They just enter the house at anytime."