New Waterboys album brings Yeats poetry to life
Scottish school pupils have been listening to an album of music based on the Irish poet's work on National Poetry Day.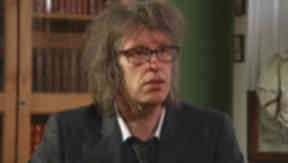 **A Scottish musician has been receiving rave reviews of an album of poetry set to music - a collection which is also being used to introduce school pupils to the works of a WB Yeats. **
Mike Scott of The Waterboys has written a new album of songs based on poems of Yeats - one of the 20th century's greatest writers.
Pupils studying English at Clevedan Secondary School in Glasgow were given the chance to listen to the album on National Poetry Day and thought it a great way to gain insight into one of Ireland's most famous writers.
"I think there's a lot of people who don't really read poetry a lot and I think that's a new way for them to access it," said one pupil.
In his latest album, An Appointment with Mr Yeats, Mike Scott has reworked 14 poems from the revered writer's canon and made them his own.
Edinburgh born Scott was introduced to Yeats' work as a schoolboy and has been planning how best to turn his passion for the Sligo wordsmith into a musical tribute for more than 20 years.
Asked what is it about the poetry of Yeats that he found so enthralling, Mike Scott answered: "I like his subject set - love, politics, Ireland, mythology, the mystic: they are all subjects that I spend time thinking about. I know I should get out more but those are the things I think about."
IN DETAIL: