Health checks for new construction workers 'could save £30m'
Trade body estimates health problems from construction work cost economy £66m every year.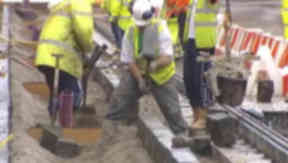 Tackling work-related ill health among construction apprentices could save the Scottish economy more than £30m over the next decade, new figures suggest.
Constructing Better Health Scotland (CBH Scotland) is calling for baseline health checks for all apprentices entering the industry as part of a campaign to improve occupational health management in the sector.
It said only 27% of Scottish Building Federation members who employ apprentices provide them with a baseline health check when they join the company, according to a recent survey.
CBH Scotland said this means many new recruits at risk or those suffering from long-term health problems will go undetected and will not receive the occupational health support they need.
The body, a newly established industry-wide occupational health management scheme, estimates that the current cost of occupational ill health in the Scottish construction industry is £66m per year or £386 for every worker employed in the industry.
CBH chief executive Michelle Aldous said: "CBH Scotland has been established to work with employers to improve the long-term health and wellbeing of those working in the Scottish construction industry.
"Our research shows that proactively managing the occupational health of new building apprentices through systematic baseline health checks could save the Scottish economy more than £30m by 2024.
"These checks are easy and cost-effective to complete and will enable us to monitor and manage the occupational health of the Scottish construction workforce over time.
"At the same time, a more proactive approach to occupational health management will save industry employers and the wider economy significant sums of money in the longer term."
The campaign is being organised in conjunction with the Scottish Centre for Healthy Working Lives and employers' trade association the Scottish Building Federation (SBF).
New figures released today show that the number of construction apprentices registered in Scotland last year increased by 11% compared to 2012, according to the Scottish Building Apprenticeship and Training Council (SBATC).
In total, 149 more apprentices were registered in 2013 than during the previous year, taking the total number to 1448.
This follows five consecutive years of declining numbers from a peak of 2758 construction apprentices registered in Scotland in 2007.
CBH Scotland estimates that, assuming an annual 4% increase in apprenticeship registrations over the next decade, comprehensive baseline health checks could benefit more than 14,000 additional apprentices over that period, saving as much as #30 million in work-related ill health costs by 2024.
Vaughan Hart, a member of the CBH Scotland Board and SBF managing director, welcomed the campaign.
He added: "It's also encouraging to note that the number of apprentices coming into the industry has finally begun to recover following five years of steep decline.
"As these numbers start to grow, now is the ideal time to look at embedding a best practice approach to occupational health management into the industry.
"A majority of our members tell us they would welcome additional advice and support with occupational health matters.
"I am confident CBH Scotland will be in a position to help fulfil that role in the future."
Constructing Better Health was founded in 2006 and established CBH Scotland in April 2014.