Ed Miliband pledges to deliver further devolution if elected
The Labour leader issued a raft of pledges that he said would 'truly deliver social justice'.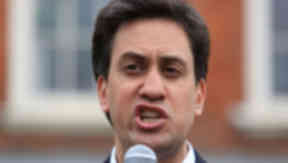 Ed Miliband has announced that Labour would give "wide ranging" new powers to the Scottish Parliament should his party win the UK election and Scotland remains in the Union.
During a visit to Dundee, the Labour leader promised to give Holyrood more control over income tax, housing benefit and the work programme.
More devolution is one of a raft of new measures that Mr Miliband said a Labour government would include in its first Queens Speech.
Other pledges include restoring the 50p tax for those earning over £150,000 and introducing a 10p tax for low earners, guaranteed jobs for people in Scotland who have been unemployed for a year, barring zero-hours contracts and freezing energy bills.
Mr Miliband went on to guarantee that a Labour government would deliver these changes "a year from now" following the UK general election in 2015.
And he restated his belief that only the Labour Party can "truly deliver social justice".
Mr Miliband told the Daily Record newspaper: "I think our devolution commission has excellent conclusions about how Scotland can have more powers on housing benefit, the work programme and powers on taxation as well.
"We're determined to put that into effect in a new Scotland Act in the first Queen's speech."
He added: "Devolution has always been a process and it falls to each generation to look at the balance of powers and that's what we have done. You never declare you are at the end of the road."
But the SNP claimed Mr Miliband had "nothing to offer" in the debate over Scotland's future, and insisted only independence would guarantee more powers for Holyrood.
SNP MSP Stewart Maxwell said: "Ed Miliband's speech today had nothing to offer the debate on Scotland's future - the fact remains that only a Yes vote guarantees more powers.
"And only a Yes vote in September guarantees we always get the governments we vote for and never again have to put up with Westminster Tory governments we didn't elect."
Mr Maxwell said Labour's devolution commission "completely failed to offer substantial new powers" adding that "academics and experts have criticised the lack of vision in Labour's proposals".
He contrasted this with the Scottish Government's white paper on independence, which he said "sets out a detailed vision of what an independent Scotland will look like, setting out how we can work toward creating a fairer Scotland, closing the gap between rich and poor that only grew wider under the last Labour government".
Mr Maxwell said: "The people of Scotland will not be fooled by Labour's promises of further powers. In 1979 we were promised 'a better form of Devolution' if we voted No, but in reality all we got was 18 years of Tory government.
"With a Yes vote in September we will no longer have to put up with Tory policies like the unfair bedroom tax and dumping Trident nuclear weapons on the Clyde.
"In contrast Labour can't even guarantee Ed Miliband will become Prime Minister, never mind the powers Scotland needs to thrive."
Feedback: We want your feedback on our site. If you've got questions, spotted an inaccuracy or just want to share some ideas about our news service, please email us on web@stv.tv.
Download: The STV News app is Scotland's favourite and is available for iPhone from the Apple store and for Android from Google Play. Download it today and continue to enjoy STV News wherever you are.