Whistleblower Snowden 'should be given asylum in independent Scotland'
A petition will be considered calling for Snowden to be given shelter if it votes for independence.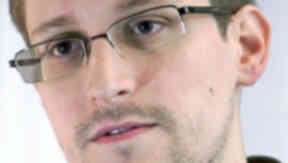 A plea to give political asylum to US whistleblower Edward Snowden if Scotland votes for independence will be considered by MSPs.
Campaigner Mick Napier put forward a petition calling for Snowden, now rector of Glasgow University, to be given shelter in Scotland.
The former university lecturer will make his case to MSPs on the Public Petitions Committee on Tuesday morning.
Mr Snowden, who has been given temporary asylum in Russia, became a wanted man when he brought to light secret National Security Agency documents which revealed widespread US surveillance of phone and internet communications.
In the petition Mr Napier argued that Mr Snowden had "revealed uncontested information on the extensive surveillance undertaken by the British GCHQ and the US NSA to the extent that they furtively collect all emails and text messages of every citizen".
He added: "For this we owe him a debt of gratitude and the award of political asylum would be a demonstration of that gratitude."
A Scottish Government spokeswoman said: "Asylum is granted within the terms of relevant international law to those fleeing persecution or serious harm in their own country and in need of international protection, and an independent Scotland would consider each case on its own merits when or if an application is made."