Hillary Clinton calls for return of Lockerbie bomber to jail
US Secretary of State says release of Abdelbaset al-Megrahi was a miscarriage of justice.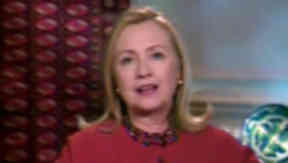 US Secretary of State Hillary Clinton has called for the Lockerbie bomber to be sent from Libya back to his Scottish prison cell now that Colonel Gadaffi has been driven from power.
Mrs Clinton made the comments about Abdelbaset al-Megrahi on American television and said she intends to raise the issue with the new Libyan Government.
She said: "I never thought he should have been released in the first place.
"And I've raised with the highest leadership of the Transitional National Council and I will raise again, as soon as they have a government, the United States' very strong feelings that this man should be returned to prison.
"That is the only appropriate outcome of what was in my view a miscarriage of justice when he was released."