Alex Salmond vows to scrap Trident in independent Scotland
The First Minister tells Scotland Tonight he would get rid of the nuclear submarine programme.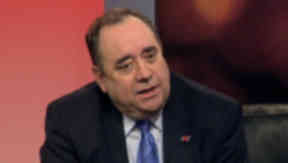 The First Minister has guaranteed he would scrap the Trident nuclear programme if Scotland gains independence.
Speaking on STV's Scotland Tonight show, Alex Salmond agreed "100%" he would get rid of the nuclear submarine programme if he wins independence for the country.
He said: "We wouldn't have the obscenity of a new generation of weapons of mass destruction decimating the west coast of Scotland.
"Spending £100bn on this new generation of nuclear weapons, we don't want any part of that.
"It would be the guarantee that never again would we be spilling and wasting our best blood in illegal wars like Iraq.
"If you have your own defence and security policy then, if it's a United Nations-sanctioned action like Libya, you can take part with the international community. If it's an illegal war like Iraq, you can say 'No, not in our name'."
Asked by presenter Rona Dougall if Scotland would share anything with the rest of the UK, he said: "We would share defence resources.
"Right now the UK has bases in Germany. Of course you can share bases and resources with friendly allies.
"You still have the right to decide whether or not to take part in illegal wars, like Iraq."