Law call on land ownership limits and new powers on vacant plots
Scottish Government-appointed Land Reform Review Group recommends councils have the power to buy derelict land.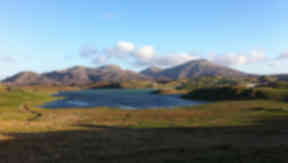 A new law should be brought in to limit how much land any single person can own in Scotland, a report has recommended.
The Land Reform Review Group is also calling for councils to be given the right to force the sale of vacant or derelict plots.
The review group, which was set up by Scottish ministers in 2012, is now urging the Scottish Government to be "radical in its thinking and bold in its action".
The report makes a total of 62 recommendations, which it says are "reforms in the public interest which promote the common good".
It calls for local authorities to have the right to exercise a compulsory sale order over an area of vacant or derelict land, and for community councils or other local groups to be able to ask the council to do this.
There should be an "upper limit on the total amount of land in Scotland that can be held by a private land owner or single beneficial interest", according to the group, with ministers being urged to "develop proposals to establish such a limit in law".
It called for information on properties owned by the Scottish Government, local authorities and other public bodies to be more readily available, suggesting all such organisations should have online registers, listing all the property they have.
The review group also said local government taxation "needs to be modernised" and that "serious consideration" should be given to introducing a system of land value taxation, which could be an alternative to the council tax.
Overall, the report argued the "Scottish Government should have an integrated programme of land-reform measures to take forward the changes required to modernise and reform Scotland's system of land ownership".
Alison Elliot, a former moderator of the General Assembly of the Church of Scotland, chaired the group.
She said: "What we need to see is policy and decision-making taking greater account of the public interest, opening up land ownership to more people and giving communities more influence over land use.
"There are weaknesses in the market and contradictions in public policy that must be addressed if we are to see the kind of reforms that will modernise Scotland's approach to land ownership and use.
"Our recommendations aim to move that process forward, with a range of radical measures that we hope will inspire the Scottish Government, and everyone with an interest in Scottish land, to seize the opportunity and improve how we deal with this most important resource."
She said the current systems of land ownership and management were "not yet fit for the 21st century" but stated: "The wellbeing of our economy, environment and society all depend on land.
"This is true whether we are talking about remote islands or inner cities, and it is an issue that affects everyone from farmers to high-rise residents."
Substantive action
Labour environment spokeswoman Claire Baker insisted action was needed now and land reform "must not be kicked into the long grass".
She said: "If we are serious in delivering for communities and opening up the opportunities our land offers us, we need to see further progress on land reform and this report lays out a number of options on how to proceed.
"The question is now to what extent the Government will be prepared to act. There are opportunities within this parliament to make progress and we should take them.
"However, as indicated in the report, we have yet to see any substantive action from the SNP since they came into power in 2007.
"Land reform must not be kicked into the long grass, Scottish Labour is committed to radical reform and we will work with those willing to tackle the concentrated pattern of land ownership across our country."
Environment minister Paul Wheelhouse thanked the review group for its work and pledged the Government would study the report in depth.
He said: "This report contains 62 recommendations covering a wide range of areas that aim to improve our relationship with land. We will study the report in depth and consider its recommendations.
"I am sure it will contain recommendations we agree with and some we do not, but I welcome the overall vision and proposed direction of travel.
"I am pleased to read the recommendations on improving the availability of land, both rural and urban, and the need to increase access to rural housing, these are issues that will have a direct impact on many people's lives.
"The group have also highlighted the need to address transparency of land ownership in Scotland, which I believe is crucial to taking forward this agenda.
"I also welcome that the benefits of community ownership have been highlighted within the report.
"We have always said that community ownership empowers communities, sparks regeneration and drives renewal, which is why we have an ambitious target to get one million acres of land into community ownership by 2020."
The review group had called for a working group to be set up to develop a strategy for meeting this target and Mr Wheelhouse announced he would set up such a body "shortly".
Concerns
Estate agents Savills warned the proposals could stifle investment in Scotland.
Head of rural property in Scotland Jonathan Henson said: "The proposals not only affect Rural Land, but they also affect the urban environment, affecting both residential and commercial properties.
"Some of the proposals, if adopted, would seriously infringe the rights of property owners.
"More fundamentally, any proposed reform that stifles foreign investment in Scottish land and property, either rural or urban, surely must put this country at a serious disadvantage.
"Scotland currently attracts investment from all around the world, beyond the limits of the EU, including USA, Asia and South Africa and many other countries across the globe.
"Such buyers are essential to the health and vibrancy of the Scottish economy and as Scotland competes in an increasingly global market, we simply must keep our doors open for foreign investment."
The Scottish Countryside Alliance also expressed concerns over the plans, with the group's director Jamie Stewart saying: "We will take time to review the document in its entirety before making full comment but on first reading we are very concerned.
"Although we wholeheartedly support greater community involvement in land ownership/management we fear that the proposed changes will seriously damage private investment in Scotland which will put the jobs and livelihoods of thousands of people in the most marginal rural communities in Scotland at risk.
"We will continue to work with the Scottish Government to achieve the best outcome for the public interest."