Management changes at National Library of Scotland
A new bill has been proposed which will see the institution brought into line with other public bodies.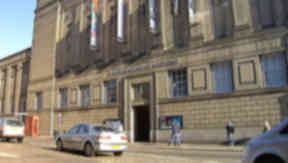 The National Library of Scotland will undergo major management changes for the first time in over 80 years.
A new bill has been proposed to "modernise" the institution "for the 21st century".
It will see the board reduced and make sure all future appointments are made by ministers after a selection process. The changes will bring the library in line with other public offices.
The National Library of Scotland Bill was announced by culture secretary Fiona Hyslop on Thursday.
The minister also announced £500,000 funding for local libraries. The money will be given to councils as grants to help improve library services across Scotland.
Fiona Hyslop said: "The NLS is one of Europe's leading libraries and a world centre for the study of Scotland and the Scots. Its collections span the centuries, from the first printed book - the Gutenberg Bible of 1455 - to modern business directories, contemporary digitised music, photographs, films and maps, many of which can be accessed online.
"More than 150,000 people visited the Library last year and there are over 2m visits to its website every year.
"As the Library continues to make more of its collections available online, in response to the changing needs of its customers, it is important that legislation keeps pace with the requirement to preserve and develop our national collections for generations to come."
The library welcomed the changes, saying the legislation needed changing to fit the new digital environment.
Martyn Wade, National Librarian and Chief Executive of the NLS, said: "The Library has changed immeasurably since the previous legislation was passed in 1925. We have fully embraced the digital age and made more than 1.5m manuscripts, letters, books, newspapers, and market research reports available to anyone in Scotland with an internet connection. The Bill recognises and reflects our role in the 21st century and is very welcome."