Police launch national crackdown on metal thefts
Police join forces across Scotland to tackle the 'significant threat' of thieves stealing metal and cable.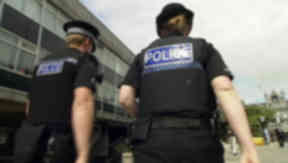 Police across Scotland have joined forces to launch a major crackdown on the growing problem of metal and cable theft.
Metal thieves cause chaos wherever they strike, from stolen cable resulting in train delays to widespread loss of power or telephone and internet connections.
The industries affected by metal theft are working together to tackle the problem which has become a significant threat to Scotland's infrastructure.
Chief superintendent Ellie Bird, chair of the Acpos Metal Theft Group, said: "Metal theft in any form is a real blight on society and sadly has been having a greater impact on communities in recent months.
"The rail network has experienced significant issues for some time, but throughout 2011 we have seen criminals diversifying and targeting metal from other areas including power cables, utility pipes, telecommunications cabling, residential properties, businesses and even vehicles."
A national day of action was launched on Friday. Officers and officials will be visiting scrap metal dealers to speak to owners about what to look for when people bring metal into their yards.
This year British Transport Police has recorded 115 cable thefts in Scotland, compared with 161 in 2010 and 61 in 2009.
David Simpson, Network Rail's Scotland route managing director, said: "Our industry remains under attack from metal thieves with hundreds of passengers and essential freight deliveries are being disrupted and delayed ever day.
"We are doing all we can to protect the network, including funding extra BTP officers, using CCTV, forensic marking techniques and other technology.
"We believe that the only way to significantly reduce metal crime is to take away the illegal market and that more robust legislation and police powers are needed to achieve that."