Homes sought for unwanted exotic animals
Bearded dragons, terrapins and snakes among the exotic creatures being abandoned.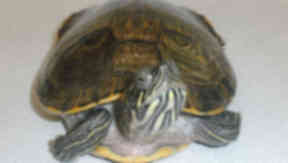 New homes are being sought for dozens of exotic creatures abandoned by their owners.
The Scottish SPCA have received more than 80 unwanted or abandoned exotic creates so far this year.
The charity has to find new homes for more than 30 bearded dragons and scores of terrapins and snakes.
Experienced reptile owners are being urged to come forward and give homes to the unwanted reptiles.
The Scottish SPCA is also appealing for donations of secondhand exotics equipment, including vivariums, basking lights, UV bulbs and water filters.
Chief inspector Fiona Greig said: "Exotic creatures such as terrapins and bearded dragons can be more expensive to care for than the average family dog.
"Terrapins can be bought cheaply from pet shops when they are the size of a fifty pence piece and look very cute. But often people don't realise that they can grow up to 12 inches long, live for ten to 15 years and have a tendency to bite.
"There is also a boredom factor with these pets because you can't take them for a walk or cuddle and play with them.
"These are the reasons why so many reptiles and aquatics end up in our care. It's a real shame though because, with the right owners, they can make excellent pets that provide hours of pleasure and enjoyment."
Anyone interested is urged to call the Scottish SPCA animal helpline on 03000 999999.