STV referendum poll shows swing to Yes but No still in the lead
The survey, carried out by polling firm Ipsos-MORI, puts No on 54% and Yes on 36%.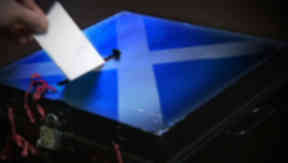 The campaign for Scottish independence has received a boost in a new poll conducted for STV.
The survey, carried out by polling firm Ipsos-MORI, shows a swing to the pro-independence campaign with just over three months to go until Scots cast their votes.
Respondents were asked the question which will appear on the ballot paper on September 18: "Should Scotland be an independent country?"
Amongst those certain to vote, Yes has risen four points to 36% while No has dropped three points to 54%.
One in ten remain undecided, down one point on Ipsos-MORI's last poll for STV, published in March.
Across all voters, 52% intend to vote No, 34% Yes, and 13% are undecided.
When those who declare themselves undecided are stripped out, No leads Yes by 60%-40% amongst both all voters and those certain to vote.
This same balance of opinion is found amongst respondents who are "definitely decided and certain to vote", with six in ten planning to say No and four in ten preferring Yes.
The overall trend shows the polls narrowing, with Yes trending upwards and No trending downwards since February. However, Ipsos-MORI Scotland's director Mark Diffley said Yes still had significant ground to gain to cross the winning line on September 18.
He said: "The Yes campaign has made some significant progress in persuading the public in recent months. With just over 100 days to go until the referendum they will hope that this represents momentum that will see support continue to grow up to September 18.
"However, it is clear that the No campaign retains a healthy lead and, with the referendum fast approaching, there would need to be significant change in opinions if Yes is going to win."
The campaign for Scotland to remain in the Union enjoys a nine-point advantage amongst undecideds. Thirty-two per cent of undecided voters, when pressed on which option they are most inclined towards, say they lean No.
This contrasts with 23% in the same category who say Yes. The plurality, 45%, continue to be undecided.
The gender gap in voting intentions continues, with men evenly split for and against independence and women firmly against. Forty-six per cent of men who are certain to vote intend to vote Yes versus 46% who plan to vote No.
By contrast, 61% of women said they would vote No while 28% indicated they would choose Yes.
The Yes campaign would appear to have made significant inroads on STV's March poll, which showed a 54%-38% lead for No amongst men who were certain to vote. However, the No side appears to have held its advantage amongst women, which stood at 59%-27% in March.
The new poll also indicates a turnaround in voting intentions as indexed to affluence and deprivation.
Where Yes led the No campaign 47% to 41% amongst those living in the most deprived areas in March, the balance has flipped in favour of No, which is now ahead of Yes in this demographic by 51% to 41%.
In a more positive development for the pro-independence campaign, the Unionist cause has lost ground amongst those living in Scotland's most affluent areas.
While 71% of these voters planned to vote No in March, now only 59% plan to do so. At the same time, backing for Yes has risen from 20% to 33% over the same period.
There are also clear trends based on voter age. Those aged between 16 and 24 are still the most likely to vote Yes, by a slender margin of 45% to 44%. No commands a majority in all other age groups, with the over 55s most in favour of Scotland staying part of the UK.
Those respondents who gave a voting intention had overwhelmingly made up their minds, with 82% definitely going to vote that way and only 18% willing to consider a switch. Nineteen per cent of Yes voters would consider switching their vote, compared to 17% of No voters.
Interest in the referendum continues to rise, with 82% of Scots saying they are certain to vote, up four points on February.
The demographic group which has shown the biggest rise in certainty to vote is the 16-24 year olds, 66% of whom will definitely turn up at their polling station on September 18. This represents a ten per cent increase on March.
Ipsos-MORI polled 1003 Scots over the age of 16 between May 26 and June 1, following the elections to the European Parliament.
Monday's poll is the fourth Ipsos-MORI survey for STV. The first, in September 2013, placed Yes on 31% and No on 59%, with a further ten per cent of voters unsure.
Note: Where results do not add up to 100%, this may be due to computer rounding, multiple responses, or the exclusion of "don't know" respondents.