Mediation could spare young Scots 'the nightmare of homelessness"
Report calls for better investment in services which resolve family disputes.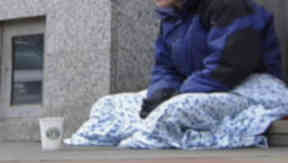 Thousands of young Scots could be spared the "nightmare of homelessness" with better investment in mediation services, a report claims.
A total of 6000 people aged 16 to 24 become homeless every year after their relationship with their family breaks down.
But the report argued many of these cases could be avoided if mediation services, which can help resolve disputes between young people and their families, were better funded and more consistently available.
The research, due to be presented to MSPs at Holyrood on Thursday, was carried out by the mediation and homelessness prevention service run by the charity Edinburgh Cyrenians.
Its Amber Mediation Service is the longest-running project of its kind in Scotland.
The report, which looks at the provision of mediation over the last decade, called for more cash to be invested in such services to help tackle the problem of youth homelessness.
It also argued all those working with young people, such as schools and GPs, should be more aware of mediation services so they can refer vulnerable youngsters to them.
Another recommendation is that mediation should be available to under-16s.
Children's Commissioner Tam Baillie said: "Young, single people are those most likely to become homeless, usually because their relationship with their family has broken down - yet with the right support many of these breakdowns are preventable.
"This report challenges policymakers and local authorities and other service providers to properly support troubled families, to prevent homelessness and all its attendant problems and consequences for young people in Scotland."
Emma Dore, the report's author and development worker for Amber, said: "Mediation has become an accepted part of the way we help prevent homelessness since the first project started 10 years ago.
"Yet every year 6000 young people across Scotland face the nightmare of homelessness because the relationship with their family falls apart.
"For many it can become a cycle of homelessness, which significantly affects their life chances. That's a tragedy we can avoid by making mediation available to young people and their families before it's too late."
She added: "Early intervention is the most effective way of working with young people and their families.
"It makes sense, despite restricted budgets, to invest in well-designed mediation services to stop homelessness before it happens."