Most North Sea oil workers want independent Scotland, survey finds
A survey by recruitment website Oil and Gas People found that 64% plan to vote Yes in September.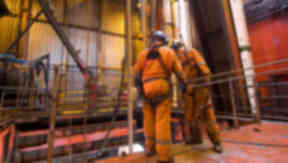 Most North Sea oil and gas workers will vote in favour of an independent Scotland, according to a new survey.
A poll of more than 1000 workers by recruitment website Oil and Gas People found that 64% plan to vote Yes in September.
In a separate survey, more than half of 5000 workers surveyed said they wanted to see more investment in British training.
Another 31% said production and efficiency of oil fields needs to be "improved drastically" and 51% said skills shortages are a "major issue".
Kevin Forbes, Oil and Gas people CEO, said: "The survey has found that the workers in the oil and gas industry want an independent Scotland.
"They clearly don't believe the concerns that Scotland's economy will suffer after independence.
"However, many believe that issues need be addressed urgently following the referendum in order to effectively safeguard the future of the industry.
"Both governments need to reassure voters that whoever wins the vote they will make the North Sea oil and gas industry a priority."
Meanwhile, nearly half of all employers in the oil and gas industry say that the referendum has effected their investment plans.
The poll from the Aberdeen and Grampian Chamber of Commerce showed that 45% of employers surveyed had been influenced by the vote.
North East Labour MSP Richard Baker said: "This is yet another significant intervention highlighting the big risks that come with separation.
"It is clear that uncertainty over currency if we leave the UK is forcing oil firms to delay investment in Scotland.
"The oil and gas sector is important to the Scottish economy but revenues from the industry are volatile and declining and can't pay for everything.
"Being part of the UK it means we have broader shoulders which protects the money we have available to spend on schools and hospitals.
"It also attracts more investment which creates more jobs but the message from major employers is that uncertainty is putting those benefits at risk."