Dementia patients benefit from football memories
A project uses football memorabilia to stimulate the brains of people with the condition.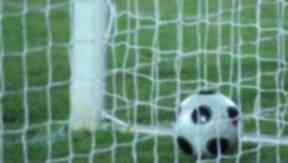 **Hundreds of people with dementia have spent the day at Hampden Park as part of a programme aiming to improve the lives of those with the condition. **
The football reminiscence project uses the game to provide stimulation for the brain which helps slow down the rate of decline.
Experts have discovered that showing football memorabilia to men with the condition stimulated their memories in a "remarkable" way.
Even if someone with dementia is not a football fan, they may still have memories associated with the game.
Former Scotland international Colin Jackson attended the Hampden event. He said: "It's working, you can really see it. The eyes are lighting up, people are aware. The names are getting quoted for people who have day-to-day troubles.
"I've talked to people who talk about the atmospheres at games 30, 40 years ago. It's terrific."
The football reminiscence project is part of ongoing research by Glasgow Caledonian University.
Michael White, of Alzheimer's Scotland, said: "This came about by accident through my work as a Falkirk historian, being asked to go and talk at care homes.
"I found that the guys really switched on when the topic of football came up. Their recall of goals and games was really spectacular."
IN DETAIL