Dramatic drop in wintering birds numbers
Recent figures show a significant fall in the numbers of some bird species which arrive in Scotland over the winter.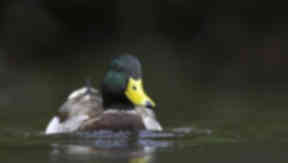 New figures have shown a dramatic drop in the numbers of some birds species arriving in Scotland over winter.
The mallard duck population has almost halved over the past 30 years, according to a new study.
Mallard numbers in Scotland are boosted each winter with an influx of birds from north and eastern Europe.
New figures show a drop of winter populations by around 46% since 1982, and by 32% in 1998.
The annual State of the UK's Birds report also shows a 70% drop in pochard numbers, 53% decrease in goldeneye and 40% drop in Greenland white-fronted goose numbers, all since 1982.
It is not yet clear why bird numbers have dropped, but waterbird monitoring schemes in other parts of Europe have revealed birds are not migrating as far west or south, because of milder conditions elsewhere.
In Scotland the downward trend is not universal, with wintering numbers of wigeon, gadwall, teal and pink-footed geese all increasing over the same period.
Stuart Housden, RSPB Scotland director, said: "Scotland has some of the most ornithologically important wetland sites in the UK, home to vital populations of waders and waterbirds, and valuable feeding ground for millions of migrating birds.
"The fact that fewer of these winter visitors are reaching the UK may well reflect progressively milder winter conditions further north and east across Europe.
"This is a reminder that we still have much to learn about the long term impacts of climate change and its consequences for wildlife across the globe."
The future of the Greenland white-fronted goose is of particular concern because Scotland hosts a significant proportion of the world population of this bird, on Islay, Caithness and the wetlands on the south west, he added.
Susan Davies, Scottish Natural Heritage director of policy and advice said: "This assessment of where the UK's bird populations are at present is important for working out what action needs to be taken both at home and internationally.
"Scotland has some world-class wetland sites and our bird populations are a vital indicator of the health of our environment. We ignore significant changes at our peril."