Sir Sean Connery named Scotland's greatest living treasure
James Bond actor beats Sir Alex Ferguson and Billy Connolly to top poll.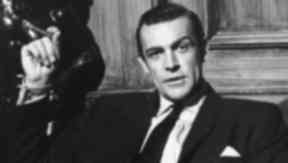 Sir Sean Connery has been named Scotland's "greatest living national treasure" in a poll.
The actor beat competition from the likes of Sir Alex Ferguson, Billy Connolly and Sir Chris Hoy to come top of the EuroMillions Millionaire Raffle national treasures report.
A poll was commissioned to celebrate "Millionaires Month" in which 50 winners across Britain are guaranteed to each collect £1m between November 25 and December 23.
The reward for the former James Bond is to see his face on a bespoke £1m "banknote".
A EuroMillions spokesman said: "Sir Sean Connery rightfully holds a place in the nation's hearts and is considered one of the greatest actors of all time, as well as being considered to be our greatest living Scottish treasure.
"Even though the £1m note is not in circulation, it seems that the Scottish public already know exactly who they would want to be the face of it."
Around 4000 people took part in the poll to say who they would vote for as the "greatest national living treasure" who best represents Scotland and who would feature on the banknote to be produced this Christmas.
Survey respondents were asked to choose from a shortlist of "living luminaries" from every region of the UK.
Sir Sean won more than 20% of the Scottish vote. Sir Alex Ferguson came second on 15% while the top woman was Lorraine Kelly.
Sir David Attenborough was named as Britain's greatest living treasure, with 24% of the votes, followed by Stephen Fry and Sir Sean.
EuroMillions have provided some ideas of how the 50 would-be millionaires would spend their money: the Harlequin Suite in London's Dorchester Hotel could be booked for 210 nights or 1527 round-the-world flights could be bought.