Severe winds and snow expected across Scotland
Weather forecasters are warning of structural damage and disruption to traffic as storms lash the country.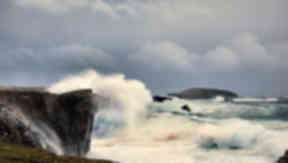 Winds up to 80mph are set to hit the country with heavy snow forecast across parts of Scotland.
Weather forecasters are also warning of structural damage to properties and travel disruption as stormy conditions affect much of the country on Saturday.
There is also a risk of flooding in some areas with as much as four inches of rain falling in places.
Most of the country will experience gusts of wind of around 65mph, while the south-east of Scotland will see severe gales of around 80mph on Saturday.
Heavy rain will affect northern and western Scotland, including the central belt, particularly on Saturday. Snow will continue to fall on higher ground.
On Friday winds of 65 mph hit Shetland and Islay, while Dumfries and Galloway was battered by winds of 60 mph.
Snow fell in the Cairngorms, and is expected to fall again over the weekend.
Drivers were told to exercise "extreme caution" on the Erskine Bridge, Skye Bridge, Kessock Bridge, Clackmannanshire Bridge and Forth Road Bridge.
Four Caledonian MacBrayne ferries were cancelled and nine others disrupted because of high winds.
Severe weather warnings were issued for the north of Scotland, with "storm-force" winds expected to hit the area throughout the weekend.
The warning comes after a woman died when her car plunged into a loch in Harris as she drove in heavy winds on Thursday afternoon.
Lorna MacDonald, 26, a speech therapist at Western Isles Hospital, died in hospital after the accident on the A859 near Horsacleit Lodge.
Drivers are warned of strong cross winds on some roads over the weekend, including the M74 and A1 in the north of England.
STV weatherman Sean Batty said: "There will be gusts of wind up to 65mph across much of the country while the south-east of Scotland will see winds of 80mph. Snow will also fall on higher ground.
"This could bring structural damage to properties and cause disruption to travel. The M74 will also experience strong cross winds along with the A1 in the north of England.
"Central and southern areas should ease on Saturday night with periods of extremely strong winds affecting Caithness and the Northern Isles in the early hours of Sunday."
He added: "Sunday should be a better day for most areas but wintry showers should still affect the north east.
"Heavy rain will affect northern and western Scotland particularly on Saturday.
"This will probably lead to localised flooding in parts of the west on Saturday with as much as four inches of rain. West Highland and northern Argyll will be worst affected."
"Weather is set to stay very unsettled into next week with more very windy and stormy weather at times."
The Scottish Environment Protection Agency (Sepa) issued flood warnings for Orkney, Shetland, Skye and Lochaber, the Western Isles and Wester Ross on Friday.
IN DETAIL