Three quarters of cyclists reveal near miss, finds STV survey
An exclusive poll shows Glasgow cyclists as having the highest number of near-accidents.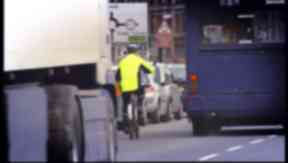 Three quarters of cyclists in Glasgow have had a near miss while on the road, according to a new STV survey.
Many cyclists revealed that they feel unsafe on the roads, and called for better safety measures to be put in place.
The ScotPulse survey for STV revealed 72% of cyclists in Glasgow have reported a near miss compared to 55% in Edinburgh, 50% in Dundee and Perth and 40% in Aberdeen.
Scotland-wide 60% of Scottish adults said they had experienced a close escape.
The number of deaths is also rising,with 13 cyclists killed on the roads in Scotland last year, four more than in 2012.
Transport Scotland say there were 882 bike injuries last year.
The Scottish Government has invested £58 million in cycling and walking since 2011, but with 24% more cyclists on the roads compared to 10 years ago they admit there is still a long way to go to make Scotland's roads a safe place for cyclists.
A Transport Scotland spokesperson said: "We have in recent years invested significantly in training, infrastructure and safety campaigns for the benefit of cyclists, - including awareness-raising for motorists on how to reduce the danger they pose to cyclists and will continue to do so.
"Since the 2011 Spending Review the Scottish Government has allocated over £58 million to cycling and walking.
"During this year and next we are increasing our expenditure on cycling and walking infrastructure by a further £27 million to deliver projects that promote active travel for everyday commuter journeys.
"This funding will also help to deliver our commitment to the shared vision that by 2020 10% of all journeys will be by bike."