Cycling legend Graeme Obree on suicide attempts: 'I think I was incredibly lucky'
Former world cycling champ describes the situation he was in when he attempted to take his own life.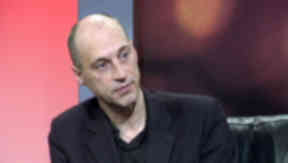 Scots cycling legend Graeme Obree has spoken to STV about his experiences of trying to take his own life.
The athlete also talked about why those who have been affected by suicide struggle to understand why it has happened.
He spoke following the sudden death of football manager Gary Speed, the popular and respected Welsh manager was found dead in his home after taking his own life. 
While no reason has yet been found for why he did it, the event has highlighted the scourge of suicide which is the leading cause of death of men in the UK under the age of 35.  Every 40 seconds, somewhere in the world, someone takes their own life In Scotland, it claimed the lives of 781 people last year.
Men were nearly three times more likely to take their lives than women and here the most at risk are 35 to 44-year-old men. Across the UK it is the biggest cause of death for 15 - 34 year olds of either gender.  The World Health Organisation says suicide kills one million people a year and lists it as a disease.
For 300 years, just talking about suicide has been seen as dangerous, but that attitude is changing.
The Scottish Government's Choose Life campaign is encouraging people to discuss issues around suicide. It is credited with driving down the country's rate by 14%. The target is 20% by 2013.
Former world cycling champion Graeme Obree spoke on STV's Scotland Tonight programme about his experience. In the past he made two attempts to take his own life.
He said: "I think I was incredibly lucky. Part of the reason I'm here - it's not an easy thing to come and talk about suicide - is because people like Gary Speed are not here to say 'I wish I hadn't done that'.
"I was the guy who kicked the chair away, with two kids and a wife who I dearly love. 
"People, survivors of depression and suicide, where people in the family have committed suicide, they struggle to understand the reasons. There's resentment, there's a lot of anger .There is a lot of feeling that they did it because that person didn't love them enough.
"There are all these resentments and feelings left over and I feel they need to hear it from someone who has actually done that and survived and lived to regret it."
Asked what took him to his situation, Graeme Obree said: "It's too short a programme to get into all that. One was a feeling of isolation. Even in company I felt that there was a bell jar around me and I wasn't part of the world, I was observing it but I wasn't part of this world whatsoever, I wasn't connected.
"I felt disconnected and purposeless, you could have given me a million pounds and I would have said 'oh, that's great' but it would have been pointless."
He added: "People cannot understand that. They can't understand this. To give you an analogy, to nail it for ordinary people that might struggle to understand: Suppose you went to a party and you really really didn't want to be at that party and thought 'I really want to go home' because your tired or you really hate the company, but you keep happy and smiley and chatty, clock watching knowing that it will be over soon.
"Imagine you woke up and every day was like that, and it took ten times the energy to deal with every person, being happy and smiley and life went on like that. And you want to do is to go to sleep but there is no sleep so it seems like the only option is to not be there any more.
"Also that state of mind is proper mental illness. It changes your perspective of reality and I actually believed that I was a terrible person and my kids would be so much better off if I wasn't here. It wasn't that I didn't love them I'm sure with Gary Speed that wasn't the case.
"The main thing I want to say to people is that if someone has left you through suicide it wasn't that they didn't love you, and that's important to say that."
He added: "The big message I can give to anybody tonight - obviously accessing help - but my personal message is that I lived to realise how wrong I was, but other people didn't live to regret it.
"If someone is up there, and I'm not saying if I'm religious or not religious, but if Gary Speed's up there he might be saying 'I wish I hadn't done that. But he doesn't have a voice.
"I'm voicing that feeling: Don't you be that person that could have regretted it.
"The whole situation is like one of those slot machines where you put the coin in for charity and the coin goes round and round and down and down.
"You've got to break that spiral. Talk to somebody, do something about it. Something has to change."
*If you have been affected by issues in this article you can contact the following organisations for emotional support: *
SAMARITANS 08457 90 90 90
BREATHING SPACE 0800 83 85 87
For more information, visit the STV Health Centre, brought to you by NHS inform.
IN DETAIL