Grouse shooting prospects 'look good' ahead of Glorious Twelfth
A mild winter and warm spring are thought to have helped the grouse reproduce ahead of the Glorious Twelfth on Tuesday.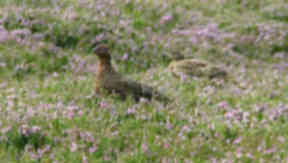 Gamekeepers say the prospects for this year's grouse shooting season look good ahead of the Glorious Twelfth.
A mild winter and warm spring this year are thought to have boosted the birds' numbers.
The Scottish Gamekeepers Association (SGA) says prospects are also good for threatened curlew and lapwig species.
The SGA says heather management and predator control by gamekeepers to produce a surplus of grouse for sport benefits threatened curlews and lapwigs.
SGA chairman Alex Hogg said: "The prospects for the grouse season look good. The mix of weather has been right for the birds, which have feathered up well, there's been enough water and there has been a good insect hatch.
"It should secure a good season for sporting visitors which, in turn, helps the small rural communities; the tourism businesses, shops and retailers that require the cash injection as we head into the less seasonal months.
"The most pleasing things for us, though, is the fate of our fragile species."
Conservation work by gamekeepers had seen the numbers of curlews and lapwigs recorded at estates around Scotland, he said.
Mr Hogg added: "Viable grouse shooting means estates can afford to pay keepers to do this vital conservation work without any need for public money.
"If you removed this model, the bill would have to come from the public purse and vast swathes of Scotland's heather moorland, more endangered than the rainforest, would be increasingly under threat from afforestation."
The SGA predicts a boost of over £32m once shooting parties take to the grouse moors.