Prisoners denied right to vote lose compensation claim, Euro court rules
European court rules the inmates in Scots prisons had their human rights breached but refused to award damages.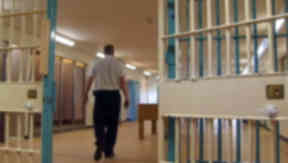 Scottish life prisoners denied the right to vote have lost a legal bid for compensation, a European court has ruled.
The ten inmates at Scottish prisoners took their case to the European Court of Human Rights (ECHR) over their ineligibility to vote in the 2009 European elections.
Lawyers for the prisoners said the ban on voting breached their human rights.
Judges at the ECHR on Tuesday ruled that the UK did breach the rights of the ten prisoners, including murderers and sex offenders, but also refused to award damages to them.
The UK Government has previously been told it must legally allow certain prisoners to vote but they have failed to introduce legislation in line with this.
The court judged on Tuesday that they "expressly declined" to offer monetary compensation to convicted criminals.
The latest ruling read: "As in those cases, in the present case the court concludes that the finding of a violation constitutes sufficient just satisfaction for any non-pecuniary damage sustained by the applicants."
The judges said they had recognised recent steps taken in the UK with the publication of a draft bill and the report of the Joint Committee on Prisoner Voting Rights appointed to examine the bill, which came back with a key recommendation to allow prisoners who were serving 12 months or less to be eligible to vote.
However, as the legislation remained unamended, the Court concluded there had been a violation of the convention.
A Ministry of Justice spokesman said: "The Government has always been clear that it believes prisoner voting is an issue that should ultimately be decided in the UK."
He added: "The Government is reflecting on the report from the Joint Committee on Prisoner Voting Rights and is actively considering its recommendations.
"This is not a straightforward issue and the Government needs to think carefully about the recommendations, which included new options for implementation."
In 2004 the ECHR said that a blanket ban on prisoners voting was unlawful but two UK governments in a row have not adhered to the ruling.
Then in 2011 the MPs at the House of Commons voted in favour of keeping the ban for all prisoners, apart from those on remand awaiting trial.