Thousands risking their homes to pay for Christmas
Survey finds 280,000 in Scotland are prepared to skip mortgage or rent to pay for food and presents.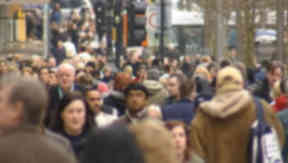 Hundreds of thousands of people could risk their home to pay for Christmas, a survey has suggested.
Two hundred and eighty thousand people said they expected to skip their rent or mortgage payment this month in order to buy food and Christmas presents.
The survey was carried out by YouGov for housing charity Shelter Scotland.
They asked 1,029 adults whether they would miss housing payments in order to meet the cost of Christmas, then applied the findings to the adult population of Scotland as a whole.
One in 12 tenants, the equivalent to around 83,690 people, said they expected to miss their rent to pay for the cost of Christmas and one in 14 homeowners in Scotland, equivalent to over 196,000 people, said they had taken or were considering taking a break from their mortgage payments.
Graeme Brown, the director of Shelter Scotland, said the cost of the festive season could push people to "breaking point".
He said: "Too many people are risking their homes by missing or delaying rent and mortgage payments. With Christmas just around the corner, many can feel pressured to spend money they simply don't have.
"Combined with the existing daily struggle and misery felt by thousands of families, the cost of the festive period could lead some to breaking point.
"The cost of housing is putting increasing pressure on day to day finances and forcing some families to ultimately risk their homes in order to pay for Christmas. As Scotland begins to feel the full impact of savage cuts to jobs and housing benefits, and as more people face even greater debt, the perfect storm is brewing for a rise in homelessness.
"We urge people to think very carefully before delaying rent or mortgage payments. It can seem like a quick fix, but can have long lasting implications."
Scottish Labour's shadow minister for housing, Lewis Macdonald MSP, said: "This is deeply worrying, but perhaps not surprising, given the immense pressure to spend money at Christmas. It may well result in tenants facing eviction for unpaid rent, and in homeowners having their houses repossessed.
"That is particularly bad news at a time when fewer homes are being built in Scotland than for many years, and the SNP government has cut the budget for new affordable homes by half.
"These figures make it all the more important that the SNP keep their manifesto promise to build 6,000 new homes for social rent every year - a promise they have failed to repeat since the election."