C'mon get aff! 'Big Man' deals with fare dodger on ScotRail train
The clip of the 'Big Man' removing a non-paying passenger from a ScotRail train has been viewed more than 150,000 times.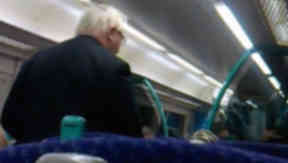 A clip of a fare dodger being unceremoniously removed from a carriage by a fellow traveller has become an internet hit.
The video shows the young man arguing with a ticket collector at Linlithgow Train Station for not having a valid ticket.
He swears at the ScotRail ticket collector who repeatedly told the man to "get off" the Perth to Edinburgh train on Friday as he had not paid for his journey.
During the two and a half minute clip, the collector tells the passenger that he "can sit here all night" as he is getting paid for it, but the rest of the people travelling on the train will not stand for it.
The train worker's warning turns into reality for the non-paying traveller when another passenger, dubbed the Big Man by social media users, asks the collector "Do you want me to get him off for you?"
He then grabs the unruly passenger and abruptly ejects him from the train at Linlithgow, before the Big Man receives a round of applause from his fellow travellers on returning to his seat.
On Monday, ScoRail confirmed it was looking into the incident. A spokeswoman said: "While we welcome the public's support of our zero-tolerance stance on anti-social behaviour, our staff are trained in conflict management and we do not expect members of the public to take matters into their own hands.
"We are investigating the incident, which appears to show a person travelling without a valid ticket, refusing to pay for the journey, and swearing at a staff member in full view of customers."
The clip, entitled **ScotRail No Ticket **on YouTube, has been viewed more than 150,000 times since it was uploaded on Saturday and has been widely discussed on Twitter and Facebook as well as the viral sharing site.
Many posted comments in favour of the passenger who removed the fare dodger, however hundreds also came to the defence of the non-paying traveller claiming that he had been "assaulted" for not having the right train ticket.