Rape convictions fall by a third
Crime statistics also show a drop in serious assaults and attempted murder but rising numbers of non-sexual violent crimes.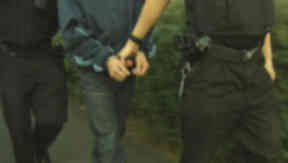 The number of people convicted of rape and attempted rape fell by a third in 2010-11, according to official crime statistics.
The drop was revealed in the Criminal Proceedings in Scotland 2010-11 report, which showed there were 36 rape and attempted rape convictions, compared with 54 in the previous year.
The report also showed 115,398 people were convicted for all crimes and offences in 2010-11, down 5% on 2009-10.
Convictions fell in most crime groups, with homicide remaining at 116 and serious assault and attempted murder falling by 7% from 1507 to 1406.
The number of convictions for non-sexual violent crimes such as extortion, threats and cruel treatment of children, rose by 56% from 305 to 476.
For crimes of indecency, sexual assault convictions rose by 8%, from 260 to 280, while other crimes of indecency, such as sexual exposure and incest, fell by 19% from 358 to 290.
Meanwhile convictions for those caught with an offensive weapon fell by 14% from 2866 to 2473.
The number of custodial sentences handed out was down 3% to 15,268.
Justice Secretary Kenny MacAskill said the average sentence for someone convicted of handling an offensive weapon increased to 288 days, above the average sentence length for all crimes of 277 days.
Mr MacAskill said: "These figures underline that those guilty of serious offences are being rightly punished with lengthy prison sentences.
"Crimes involving offensive weapons bring misery upon our communities and it now clearer than ever that the courts are taking this issue very seriously.
"Thanks to the efforts of 1000 extra police on our streets, recorded crime is now at its lowest level in 35 years, fear of crime is down, the number of people carrying out crime is down and those that do break the law are being punished swiftly."
On the rape conviction figures, a Scottish Government spokesperson said: "Rape is a horrific crime and we want to ensure that those that commit it are caught and victims are given justice.
"Last year we brought in the Sexual Offences Act which brought greater clarity to the prosecution of sexual crimes. This is important legislation that has improved the law.
"In establishing the National Sex Crimes Unit, the Crown Office have established a team of specialist prosecutors to ensure these cases are given the best available consideration and preparation."
Scottish Labour's Shadow Cabinet Secretary for Justice, Johann Lamont MSP, said: "What is most worrying is that if you scratch beneath the surface of these statistics, it is some of the most serious types of crime – violent crime and sexual assault – that are on the up.
"It is deeply concerning that despite the number of rapes and attempted rapes reported by police increasing last year to a five year high, the number of offenders convicted for rape has hit a ten year low and rapists are now getting shorter sentences. These statistics should be a serious wakeup call for the SNP government to redouble its efforts to ensure those guilty of these horrific crimes are brought to justice."