Revealed: Scotland's most popular baby names
Jack and Sophie are the most popular names for the fourth year in a row.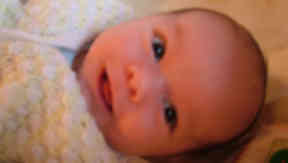 The most popular baby names in Scotland have been revealed as Jack and Sophie for the fourth year in a row.
The details for 2011 were released by the General Register Office for Scotland on Tuesday.
Jack has been the most popular name for boys for the past three years, with Lewis in second place. Between them, Jack and Lewis have been the top two boys' names for the past 13 years.
In third place is James, followed by Logan in fourth place with no change in position. Ethan climbed six places to fifth.
Sophie has been the most popular girls' name for the last seven years. The second most popular is Lily, which has climbed seven places. Ava is still third, with Olivia falling two places to fourth and Emily down one to fifth.
Names which have soared include Riley which has gone up 22 places to 17, Mason which has climbed 24 places to 31 and Ruaridh, up 45 places to 85th.
For girls, Kara has jumped up 21 places to 75, Sophia increased 24 spots to 60 and Lilly has gone up 27 places to 42nd.
The 50 most popular boys' names were given to 45% of those registered and the 50 most popular girls' names given to 43% registered.
George MacKenzie, Registrar General for Scotland, said: "The list of favourite baby names provides a fascinating insight into Scotland's people. We registered the births of nearly 28,000 boys and over 26,000 girls in the period to late November 2011. Parents chose more than 7,000 different names for their children and over 4,000 of these were unique.
"Jack remains the most popular name for boys for the fourth year in a row. Ethan, Alexander and Harry are new entrants to the top 10 and Charlie, Riley, Dylan and Aiden join the top 20. Those going down included Ross, Alex and Craig.
"For girls, Sophie is top for a seventh year, Lily climbs seven places to second and Jessica joins the top 10. Milly, Sophia and Kayla are new entrants in the top 20, while Lucie, Nieve and Courtney are less popular than last year.
"Further down the chart, Lilly, Molly, Poppy and Lacey are new girls' names in the top 50 and Mason, Leo, Jay and Harris are new for boys."
IN DETAIL