Salmond and Darling criticised in live Mumsnet referendum debate
Mumsnet debate is third major debate between Alex Salmond and Alistair Darling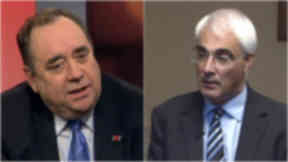 Angry mothers accused Alex Salmond and Alistair Darling of scaremongering and bullying voters in an online debate on the referendum.
Members of internet forum Mumsnet quizzed the leaders of the Yes and No campaigns on a range of issues during a live webchat, including the currency question, the impact on mortgages of independence and the future of the NHS.
Both leaders were forced to defend the tactics of their campaigns after complaints about the way voters were being treated.
Forum member daisyfraser claimed Yes campaigners had been bullying, intimidating and swearing at people on the streets of Scotland.
She wrote: "What is to be done about Yes campaigners patrolling the streets of Scotland bullying and intimidating No campaigners since it looks as if this activity may actually be frightening people into voting Yes and is highly divisive whatever the outcome?
"This happened to an advocate (barrister) friend of mine who was followed by Nationalists in a very intimidating way including swearing."
Mr Salmond insisted that recent polls had shown that voters believed the campaign was "being conducted in a way which did Scotland credit and good".
The Scottish First Minister added: "Obviously, any bad behaviour on either side should be deprecated and I always do and whether it be online or offline, but it would be entirely wrong to suggest whatever some newspapers have claimed that this is any way typical of the 99% of campaigners who are having a enlightening and joyous political campaign."
Mr Salmond was also accused of talking down to contributors by a number of mothers, with SantanaLopez writing: "Mr Salmond, your tone is hugely, hugely patronising. You are doing yourself no favours."
Mumsnetters also turned their fire on Mr Darling, with a number calling on him to stop "scaremongering".
Some mothers suggested that an announcement by Standard Life that it is preparing to leave an independent Scotland was being used to frighten voters.
RavenAlexanda wrote: "This was reportedly their announcement weeks ago and has been taken as more scaremongering in an attempt to force people into a No vote!
"I am sure your campaign advisers would have known about this before today. Please stick to the facts and stop with the scaremongering!"
But Mr Darling insisted that warning voters about the implications of independence did not amount to scare tactics.
"If I saw you step out in front of a bus and I shouted a warning, would that be scaremongering, would it?" he wrote.
Some contributors seemed less than impressed by the answers given by either of the campaign leaders.
Chunderella wrote: "I'm very glad MN (Mumsnet) hosted this but blimey, did they actually answer a single question between them?"