Jim Sillars: Businesses will face 'day of reckoning' after Yes vote
Leading Yes campaigner threatens consequences for firms 'in cahoots with English Tory PM'.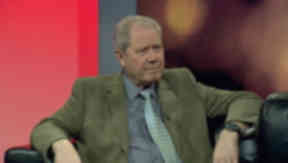 Former SNP deputy leader and prominent Yes campaigner Jim Sillars has warned of a "day of reckoning" for businesses that criticise independence.
The veteran nationalist's comments come after a number of firms raised concerns about the consequences of a Yes vote in the referendum.
BP backed a No vote earlier this week, with chief executive Bob Dudley saying "the future prospects for the North Sea are best served by maintaining the existing capacity and integrity of the United Kingdom".
RBS, Lloyds, Standard Life and the Clydesdale Bank have all announced contingency plans to move their headquarters to London if Scotland leaves the UK.
John Lewis and Waitrose have told customers to expect price rises while supermarket giant Asda has also issued a prices warning.
Mr Sillars spoke out while campaigning for a Yes vote in Wester Hailes. He is currently touring Scotland on the "Margo Mobile", a campaign van named after his late wife and pro-independence politician Margo MacDonald.
Mr Sillars said: "The No camp fear-mongering has had an effect on me – instead of retiring on September 19, I am staying in. This referendum is about power, and when we get a Yes majority, we will use that power for a day of reckoning with BP and the banks.
"The heads of these companies are rich men, in cahoots with a rich English Tory Prime Minister, to keep Scotland's poor poorer through lies and distortions. The power they have now to subvert our democracy will come to an end with a Yes.
"BP, in an independent Scotland, will need to learn the meaning of nationalisation, in part or in whole, as it has in other countries who have not been as soft as we have forced to be.
"If it wants into the 'monster fields' in the areas west of Shetland, it will have to learn to bend the knee to a greater power – us, the sovereign people of Scotland. We will be the masters of the oil fields, not BP or any other of the majors.
"If Bob Dudley thinks this is mere rhetoric, just let him wait. It is sovereign power that counts. We will have it, he will not."
Mr Sillars, who recently published In Place of Fear II: A Socialist Programme for an Independent Scotland, continued: "As for the bankers. Your casino days, rescued by socialisation of your liabilities while you waltz off with the profits, will be over. You will be split between retail and investment, and if your greed takes the latter down, there will be no rescue.
"You believe in the market, in future you will live with its discipline. Fail will mean failure.
"As for Standard Life, it will be required by new employment laws to give two years' warning of any redundancies, and reveal to the trade unions its financial reasons for relocation to any country outside of Scotland, and the costs involved.
"It has never crossed the minds of our compliant Unionist media, especially the BBC, to ask the chief executive what his costings are on his proposed moves.
"As for John Lewis, the question is whether the senior management consulted the 'partners' or took instructions from Cameron? Another question our supine BBC did not ask. There is now talk of boycott, and if it happens it will be a management own-goal.
"What kind of people do these companies think we are? They will find out."
Mr Sillars was MP for South Ayrshire from 1970 until 1979 and later for Glasgow Govan from 1988 until 1992, when he lost the seat to Scottish Labour's Ian Davidson.
He served as deputy leader of the SNP from 1991 until 1992 but broke with Alex Salmond after branding Scots "90-minute patriots" in the wake of the 1992 general election.
However, he and Mr Salmond reconciled on Tuesday to campaign for a Yes vote, with the First Minister saying: "Jim and I have known each other for many years, this is part of the campaign and Jim has done a fantastic job around Scotland with the Margo bus."
Mr Davidson, who is now MP for Glasgow South West, used his rival's comments to argue that the Yes campaign's "mask" had slipped.
He said: "The Yes campaign's mask slipped today as Jim Sillars revealed their message for the final week of this campaign – vote Yes or else.
"His words are a clear threat to anyone who points out the true costs of separation to the people of Scotland.
"The Yes campaign has been a campaign of fear and intimidation from the start. Many people have been silenced. Now those who put their head above the parapet get pot shots from desperate nationalists.
"Well I tell Jim Sillars - Scots are not the '90 minute patriots' he once accused us of being. Scots have backbone and we who are voting No with patriotism and pride for our country will not be intimidated by threats of vengeance.
"We have seen the Yes campaign's thugs on the street – now we see their thugs with microphones and press releases.
"Sillars stood shoulder to shoulder with Alex Salmond this week claiming to be positive. Now we see the real face of nationalism in all its ugliness.
"Scotland must unite to gain the change we need for our country and reject the Yes campaign's strategy of threats and intimidation."
However, Yes Scotland said Mr Sillars was "passionate" about independence from the UK.
A spokesman said: "Jim is a passionate campaigner who is carrying on the work of his late wife Margo MacDonald, who dedicated her political life to achieving an independent Scotland and a fairer society.
"The current Scottish Government's proposals for an independent Scotland are set out in great detail in the White Paper - including the job-creating powers Scotland so badly needs - and that is what people are voting for.
"In each and every election to an independent parliament, parties and individuals can put forward a manifesto of their choosing and the people will decide.
"The role of Yes is to achieve a Yes vote, so that the people of Scotland will always get the governments we vote for - and never again Westminster-imposed Tory governments."