Campaign encourages simple CPR to save lives
Advert from British Heart Foundation encourages the public to use chest compressions to save those suffering cardiac arrest.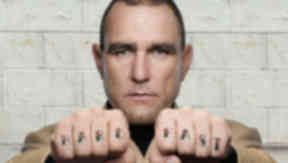 **More people are being encouraged to perform simple hands-only CPR when somebody is in cardiac arrest. **
A new advertising campaign from the British Heart Foundation Scotland urges members of the public to forget about "mouth-to-mouth" resuscitation during CPR and to concentrate instead on chest compressions.
The charity believes that everyone can learn to save a life in 40 seconds by a hands-on approach.
A new advert featuring former footballer and actor Vinnie Jones illustrates how performing CPR with hands-only can be enough to save the life of someone in cardiac arrest.
It suggests that performing compressions to the rhythm of the Bee Gees song 'Stayin' Alive' makes the procedure less daunting for an untrained member of the public.
Without CPR of some kind there is only a very small chance of someone surviving cardiac arrest.
Ellen Mason, senior cardiac nurse at the British Heart Foundation, said: "Hands-only CPR should give lots of people the confidence and know-how to help save someone in cardiac arrest, the ultimate medical emergency. It's been shown that hard, fast and uninterrupted chest compressions are better than stopping compressions for ineffective rescue breaths.
She added: "It's very simple; call 999 and then push hard and fast in the centre of the chest at a tempo similar to Stayin' Alive by the Bee Gees. If you're untrained or unconfident about the kiss of life, give hands-only CPR a go instead — it could help save someone's life."
A poll for the British Heart Foundation found that nearly half of people are put off helping someone suffering a cardiac arrest because of a lack of knowledge about CPR.
A fifth of respondents worried specifically about the thought of the kiss of life or catching an infectious disease.
The research also found that four out of ten people were concerned that they could be sued if they did something wrong, despite the fact that there has never been a successful case of that kind in the UK.
For more information on cardiovascular health, visit the STV Health Centre, brought to you by NHS inform.