Scottish Government fails to reach 50% waste recycling target
On average councils in Scotland recycle 42% of its waste, according to Sepa.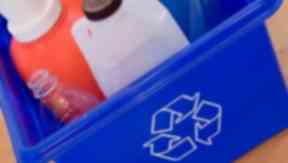 A Scottish Government target to recycle or compost half of all household waste by 2013 has been missed, figures show.
Councils across Scotland recycled 42% of the household waste they collected last year, according to the Scottish Environment Protection Agency (Sepa).
The figure is a slight increase from 2012, when 41% of household waste was recycled, and up ten percentage points since 2007.
Only nine of Scotland's 32 local authorities met the 50% target, with Clackmannanshire the best performing at 60%, followed by East Renfrewshire, North Ayrshire and Fife both at 56%.
The worst-performing councils were Shetland at 12%, Dumfries and Galloway with 24% and Glasgow City at 27%.
The figures show the amount of waste homes are generating has fallen from three million tonnes in 2007 to 2.5m tonnes in 2012 and 2.41 million tonnes last year.
The amount of waste being sent to landfill also decreased from 55.3% in 2012 to 53.5%.
Environment secretary Richard Lochhead insisted progress was being made but said councils must do more to increase recycling levels.
He said: "In the long run we still have one of the most enviable improvements in recycling rates in Europe: from less than 5% prior to the establishment of the Scottish Parliament, to 42.2% in 2013.
"Whilst the improvement in the recycling rate is not at the level we would like, it is still a positive achievement that we are continuing to make progress and, importantly, I am pleased to see the reduction of 88,000 tonnes in the waste we are generating.
"I expect the larger local authorities, and indeed all local authorities, to rise to the challenge of achieving the target via compliance with the regulations, innovation and collaboration. This will be key in improving our national performance."
Mr Lochhead said recently-introduced waste regulations should begin to impact on the recycling figures from next year and highlighted other actions to cut waste such as the roll-out of food waste collections across Scotland and the introduction of carrier-bag charges from October 20.
He added: "I will be convening a further meeting of the Zero Waste Taskforce to help councils to create local economic opportunities while ensuring local delivery against national recycling targets, and if more progress is not made I am not ruling out statutory targets in future."
Councillor Stephen Hagan, development, economy and sustainability spokesman for the Convention of Scottish Local Authorities, said: "Councils want to see as much waste as possible being prevented, re-used and, if not, recycled.
"The present performance of Scotland is impressive and there is continuing desire from councils for further improvements.
"It is particularly pleasing to see the year-on-year reduction in household waste generated."
The councillor added: "The continuing commitment shown by individuals, businesses and communities to separate waste for recycling, put out kerbside bins and take materials to recycling centres should be commended.
"Such commitment is often not considered when publishing statistics. It is truly a remarkable demonstration of some great work by all and also highlights opportunities to achieve more through continued joint working."