Soft drinks company Sangs goes into administration
Sixty jobs under threat at Scots firm which produces Macb flavoured water and has bases in Aberdeenshire and South Lanarkshire.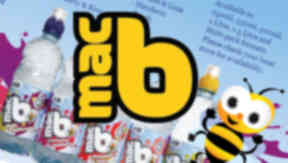 A Scots drinks company which makes the Macb flavoured water brand has gone into administration.
Sangs, which is based in Banff and has a distribution centre in South Lanarkshire, makes fizzy drinks, juices and water and employs about 60 people.
The administrators, Zolfo Cooper, said the 116-year-old business had been "experiencing cashflow problems due to today's extremely challenging trading environment".
Sangs owner Kenny Webster says the decision of Allied Irish Bank to put the company into administration has put the livelihoods of many families at risk.
He said: "To say that this has come as a shock is more than an understatement.
"Allied Irish decided to put Sangs into administration with almost immediate effect, giving us absolutely no opportunity to discuss it with them, or find an alternative solution, despite our pleas.
"That would be shocking enough but given that Sangs is a company in profit, in growth, with — despite information to the contrary — no cashflow issue and has never defaulted on a loan interest or supplier payment, I am completely at a loss to understand why they've done this.
"Together with my team, I've poured my heart and soul into these businesses and to have them ripped away like this without warning is beyond heart-breaking."
Zolfo Cooper said the company would continue to trade and they would explore all possible options, including selling the business as a going concern.
Partner Elizabeth Mackay said: "Sangs has established a significant presence across Scotland and with its rich history, strong underlying core business and the growing Macb brand, we believe it is an attractive proposition for a range of potential buyers.
"We will continue to trade the business and welcome expressions of interest from third parties."
Hours after the announcement was made a Facebook page, "Save Moray Cup, the greatest soft drink ever made", was set up by fans.
The page has now attracted nearly 1300 followers.
A Twitter post from the company read: "It has been a tough day from all at Sangs."
The Macb brand has also been the shirt sponsors of First Division football club Partick Thistle since the start of the current season.
On Monday Eilish McColgan, the daughter of Liz and one of the rising stars of Scottish athletics, was expected to announce a sponsorship deal with the company. However the event, due to take place at Scotstoun Stadium in Glasgow, was cancelled.