Ambulance rest-break deal will create 150 new jobs
Unions agree a 'radically different' deal with the Scottish Ambulance Service over long-running rest-breaks dispute.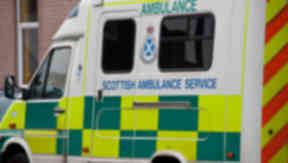 Up to 150 new jobs will be created under a deal which will resolve a long-standing dispute over rest breaks for ambulance staff.
The Scottish Ambulance Service has been involved in a stand-off with unions for months over the question of how staff should be compensated for responding to emergency calls while they are on a break.
A new deal has been reached which will see nearly 90 current vacancies filled and up to 170 new jobs created across Scotland.
Staff will continue to receive £150 a month, for the next five months, while arrangements are being sorted out.
From there, their hours will move to a 37.5 hour week, including rest breaks, and will be guaranteed another break if they are called out while resting.
Health Secretary Nicola Sturgeon said: "The rejection of the most recent offer made it very clear to me that a radically different proposal would be required in order to reach a solution to this issue and that is what has been found.
"To support this deal the Scottish Government will invest an additional £5m per year in the Scottish Ambulance Service to create 150 new frontline jobs.
"The investment will strengthen the clinical response to life-threatening emergencies as well as the performance of the Scottish Ambulance Service.
"For remote and rural areas it will support increased numbers of community paramedics able to work in and with communities."
Mick Conroy, senior organiser for the GMB Scotland union, said the deal was a "significant move forward".
He said: "All along we have said this was not about money, but about extra resources.
"We believe we will now have an ambulance service that will be fit for purpose.
"The GMB will continue to press the Scottish Government for the ambulance service to be upgraded from an essential service to an emergency service."
Mr Conroy criticised the SAS for what he said was a failure to inform the public about how the ambulance service operates.
He said: "The crew didn't decide to take their breaks, they are told to take their breaks.
"They were in a bubble during which time their communication was cut off and they were not told about call outs.
"We believe staff received unjust criticism from certain parts of the media and the public who did not have the full story about how the ambulance service operates."