Scotland celebrates Robert Burns
Events held across the country to mark the birth of Scotland's national poet.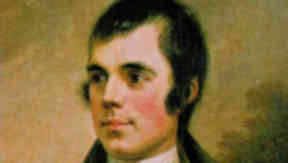 A series of events will take place across the country to celebrate Robert Burns.
Traditional Burns Suppers, poetry recitals and performances will take place 253 years on from the birth of the Bard.
A new £25,000 statue will be unveiled at his birthplace museum in Alloway, Ayrshire, commissioned by STV after Burns was voted The Greatest Scot in a television poll.
Ahead of the publication of the Scottish Government's consultation on an independence referendum, the First Minister will take time out to watch a performance of Tam O'Shanter by school children at the Scottish Storytelling Centre in Edinburgh.
Visitors to the Palace of Holyroodhouse will also be treated to a rendition of Tam O'Shanter - recently voted Scotland's favourite Burns work - to commemorate the poet's birthday.
Celtic Connections will have a series of Burns-related performances in Glasgow as singers and poets pay tribute to the inspirational writer.
Over 2,000 performers will 'light up' venues across Dumfries as the area hosts the 2012 Big Burns Supper.
Culture Secretary Fiona Hyslop said: "Robert Burns is Scotland's greatest cultural icon, recognised and celebrated all around the world.
"He remains the people's poet and his legacy is of immense value to Scotland and the country's image abroad."
"Scotland's friends the world over will also be joining in the fun with Burns Night celebrations from Cardiff to Canada and Melbourne to Mexico City, there really will be something for everyone to enjoy."
As well as the traditional Burns Suppers in Alloway, the Balmoral Hotel and homes across the country, the address to the haggis will be performed in a unique way as divers at Deep Sea World in North Queensferry will sit down to their supper surrounded by three-metre-long sharks, submerged in the aquarium's 4.5 million litre display.
Aquarium worker Aisling Thornton said: "There have been Burns Suppers on top of Ben Nevis and at exotic locations around the world.
"However we wanted to come up with a truly unique way to celebrate Burns Night and out team of divers volunteered to enjoy their supper three metres under water, surrounded by sharks and rays."
 
IN DETAIL