Health Secretary defends cut in student nurse places
Nicola Sturgeon: Reducing number of places on degree courses is 'a sensible way forward'.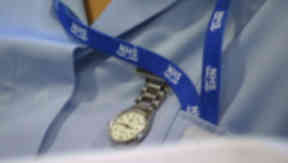 Reducing the number of places for student nurses and midwives is the "sensible way forward", to avoid graduate unemployment Health Secretary Nicola Sturgeon said.
The Scottish Government will fund 2430 places for students who are beginning degree courses in 2012-13 - down from 2700 the previous year.
Ms Sturgeon said there was a "record number" of student nurses already in courses.
She added that having looked at the work force plans of health boards "a reduction in intake for the 2012 academic year is a sensible way forward".
The number of student nurses and midwives in training has reached an all time high of 10,384.
Ms Sturgeon said: "The intake sets a balance between ensuring the right number of nurses and midwives for the future while also minimising the risk of oversupply and graduate unemployment."
The reduction in training places is broadly in line with that in other parts of the UK, according to the Scottish Government.
Ms Sturgeon said: "The NHS is changing. Balance of care is shifting towards community settings and hospital stays are becoming shorter. The shape and size of the workforce reflects that transition and it is only right that student intake must reflect this."
She also stressed that any money saved would be put towards measures to support student and newly qualified nurses and midwives.
An internship scheme guarantees student nurses and midwives a one-year placement within the NHS in Scotland, and the Health Secretary said any savings would "help us support the internship scheme that guarantees newly qualified nurses and midwives with employment when they graduate".
However nursing leaders insisted the reduction in training places was "not sustainable" and could impact on patient care.
Theresa Fyffe, director of the Royal College of Nursing (RCN) Scotland, said: "Last year we agreed, reluctantly, to a 12% cut in numbers for 2011-12, but all the evidence we've gathered shows that this further cut in numbers in 2012-13 risks there not being enough professionally qualified nurses graduating to meet the demand for health services in the future and that this cut will be bad for patient care.
She added: "To argue that fewer nurses are needed because care is being shifted from hospitals into the community is not good enough - community health services can only be provided if there are enough nurses.
"Health boards are saying that they need fewer nurses in the future, but in reality, it's not a question of supply exceeding demand but rather, many health boards cutting nursing posts to save money."